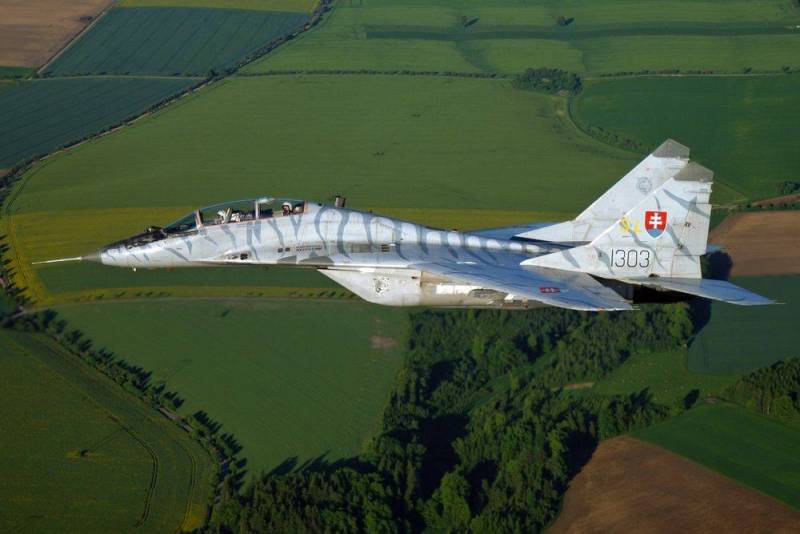 On August 27, Poland and the Czech Republic signed an agreement under which they will protect the airspace of Slovakia from September 1, as Bratislava withdraws Soviet MiG-29 fighters from its Air Force for a possible transfer to Ukraine. On August 28, a Russian military observer, retired colonel Mikhail Khodarenok drew attention to this on his Telegram channel.
According to the expert, despite the fact that Slovakia has become one step closer to the transfer of the specified fighters to the Armed Forces of Ukraine in the amount of 11 units, Ukraine has not yet solved one, but a very important problem - there is nowhere to store these aircraft. Therefore, the destruction of the Slovak MiG-29s on Ukrainian territory is a matter of time.
100% of the active military airfields of Ukraine were either hit and destroyed in the first days of "Operation Z", or their work was paralyzed after airstrikes. For the most part, the runways with fighters look like the runway in Ivano-Frankivsk - burnt-out skeletons of the MiG-29, fragments and debris
- he noted.
The expert calculated that if the said delivery takes place, then the total number of aircraft of this type in the Air Force of Ukraine could reach two dozen. He recalled that on the eve of the start of the NMD there were about 40 units, but the activity of the Russian Aerospace Forces and Air Defense did its job.
It happened because the Ukrainian Armed Forces almost always kept the vehicles in an open area, and not in shelters. There are no operating airfields with concrete caponiers (bunkers) left in Ukraine, so the Ukrainian army is actively trying to reconstruct alternate runways: airfields
Martynovka
(Voznesensk) in the Nikolaev region, Buyalyk and Chervonoglinskoe (Artsiz) in the Odessa region
- he explained.
The expert drew attention to the fact that due to their location, these airfields are not only within the reach of the Kalibr cruise missiles, but also any missile weapons deployed in the Crimea and other places. In this regard, moving aircraft to these facilities, as well as to the Kulbakino airfield, which may soon be occupied by the Russian army along with Nikolaev, is dangerous for the Armed Forces of Ukraine.
He added that the early versions of the MiG-29 in Ukraine were not equipped with modern avionics and radar. Therefore, Ukrainian fighters are forced to operate over their territory and within the tactical depth of defense - no more than 100 km.
There are no other options but to place old fighters with mediocre capabilities in the range of Russian air defenses and cruise missiles, which means that the destruction of the Slovak MiG-29s (probably along with airfields) is only a matter of time
He summed up.