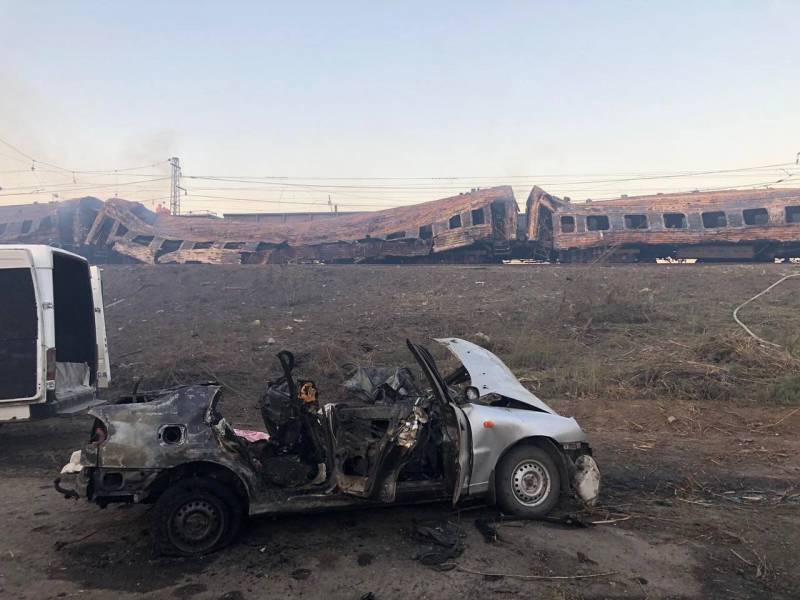 During the conduct of the Russian air defense on Ukrainian territory, the RF Armed Forces launched a missile attack on a military echelon at the Chaplino railway station, located near the village of the same name in the Vasilkovsky district of the Dnepropetrovsk region. As a result of a direct hit by the Iskander OTRK ammunition, more than two hundred AFU reservists and 10 units of various
equipment
heading to the war zone in the Donbass. On August 25, the Russian Ministry of Defense informed the public about this in its summary.
In addition to the data on the defeat of the train with the Ukrainian military reserve heading to the front, other details of the campaign were also given. For example, the Russian military department summed up the results
airstrike
at the airfield in Mirgorod in the Poltava region, where the 831st tactical aviation brigade of the Armed Forces of Ukraine is deployed. Russian X-22 Burya missiles destroyed up to 30 Ukrainian servicemen and 2 enemy aircraft: a Su-27 fighter and a Su-24 bomber. 3 aircraft also received critical damage: two Su-27s and one Su-24.
At the same time, at the Dnepr airfield in the Dnepropetrovsk region, the Russian Aerospace Forces destroyed 3 aircraft of the Armed Forces of Ukraine. Near the city of Novy Bug in the Nikolaev region, the command post of the Kakhovka grouping of the Armed Forces of Ukraine was hit. As a result, 64 servicemen of the Armed Forces of Ukraine and 7 units of various equipment were liquidated.
In the city of Shepetovka, Khmelnytsky region, the shops of an enterprise for the repair of tanks and MLRS, including those of foreign production, were hit. In the city of Zaporozhye of the same region, the workshops of the Iskra plant, where the air defense radar and counter-battery radar was repaired, as well as the production facilities of the MiGremont aircraft repair enterprise, where enemy aircraft were restored, were destroyed.