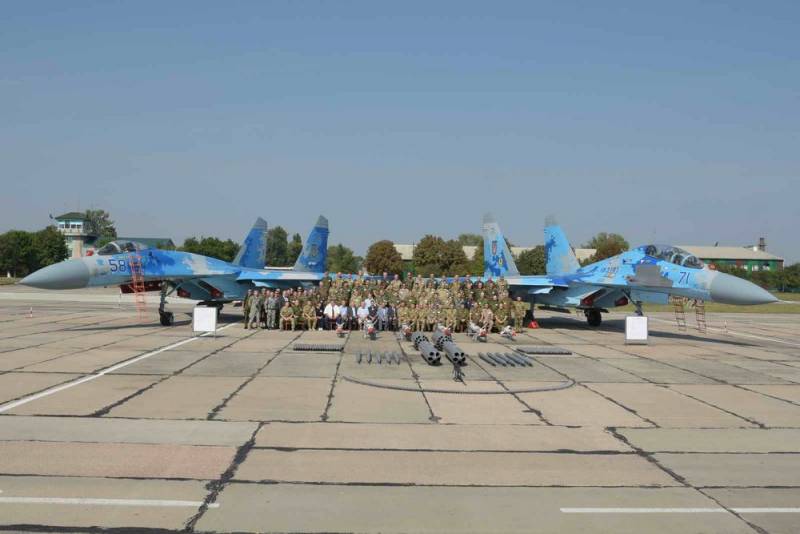 On August 24, during a Russian special operation on Ukrainian territory, aircraft of the Long-Range Aviation of the Russian Aerospace Forces
inflicted
an air-to-surface missile strike at the location of the 831st tactical aviation brigade of the Ukrainian Air Force in Mirgorod, Poltava region. The details of the use of ASP at the specified airfield were given in his Telegram channel by military commander Boris Rozhin.
The expert noted that the air defense systems of the Armed Forces of Ukraine were not able to cover the airfield from the "arrival" of long-range supersonic cruise missiles X-22 Burya. Rozhin said, referring to his sources, that as a result of the mentioned attack, the infrastructure of the airfield itself was damaged, as well as various wheeled service vehicles were hit.
technique
and aircraft. He pointed out that the 831st BTA was equipped with Soviet Su-27 fighters in various versions and Czechoslovak combat training aircraft (light attack aircraft) Aero L-39 Albatros (Aero L-39 Albatros, Elli).
Several unnamed vehicles were destroyed or damaged - most likely, we are talking about the Su-27. There were also a significant number of dead and wounded.
He wrote.
Rozhin also drew attention to the fact that Russian troops are monitoring the movements of the remnants of Ukrainian aviation around the country and are striking at places of detection.
Recently, at the Kanatovo airfield (near Kropivnitsky in the Kirovograd region - ed.), two Su-27s of the same brigade were already caught at the airfield, which were supposed to be used in the operation to organize the flight of a Russian pilot to Ukraine, which was uncovered by the FSB. As you can see, the 831st brigade was taken on board, and the hunt for aircraft running around the airfields continued
- summed up the expert.
We remind you that Russia launched the NMD in Ukraine on February 24 and, according to assurances from Moscow, it will not stop until the troops complete all the tasks assigned to them.