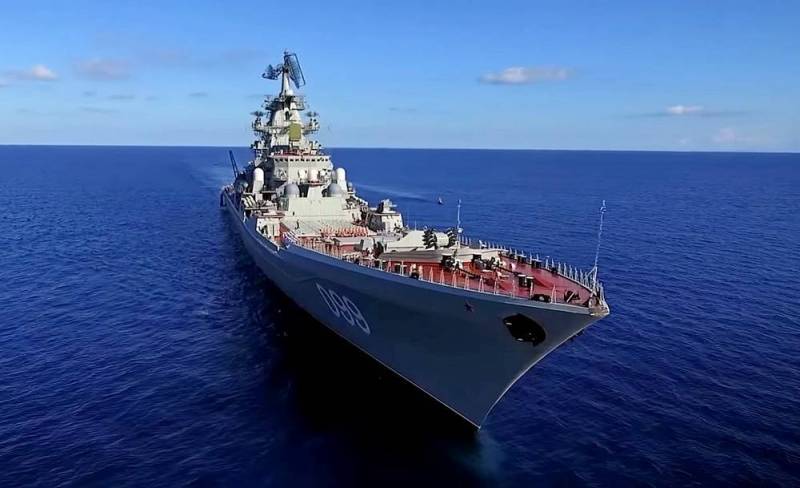 The Russian Navy can radically increase its combat capability if tactical nuclear weapons (TNW) are returned to it. This proposal was made a few days ago by the honorary scientific director of the Sarov Nuclear Center, Academician Radiy Ilkaev. Are there any pitfalls that this interesting initiative might stumble upon?
"Vigorous loaf"
Dear Radiy Ivanovich said that on the issue of the need to return tactical nuclear weapons to the arsenal of the Russian Navy, he reached a complete understanding with the former Commander-in-Chief of the Navy Vladimir Vysotsky at the opening ceremony of the monument to this admiral, who passed away last year:
We are a great maritime power and must have an appropriate fleet for protection. But to build such a fleet, you need 100 years, it is very expensive. In the meantime, it is necessary to protect by available means - to return tactical nuclear weapons, they are also in warehouses.
And you can't argue. After the collapse of the USSR, the once huge and powerful navy began to decline rapidly, the ships were either sent for scrap or sold for pennies abroad. The main shipbuilding center of the former Soviet Union remained in Nikolaev behind Kyiv. Domestic shipbuilders have lost many competencies, in particular, in the construction of large-capacity ships, military and civil. The break in industrial cooperation with Ukraine was a heavy blow for the Russian shipbuilding industry.
We have only a few warships of the 1st rank left afloat for the main fleets - the Northern, Pacific and Black Sea, whose average age is around 40 years. Against this background, the quite successful project of the 22350 frigate serves as a kind of consolation, but due to a whole range of problems in the industry, the pace of their launching remains unsatisfactory. Whatever one may say, Russia cannot quickly restore the strength of the Russian Navy on its own. At the same time, the statements of the Deputy General Director of the United Shipbuilding Corporation (USC) for military shipbuilding, Vladimir Korolev, that the order of acutely scarce warships abroad, in friendly countries (China), seem rather controversial are not an effective solution to the problem.
In this context, the proposal to return tactical nuclear weapons to the fleet seems to be a completely justified measure. At one time, we also had nuclear versions of anti-ship missiles such as Vulkan, Bazalt and Granit, and nuclear torpedoes, and bottom nuclear landmines, and megaton-class depth bombs, and mines, and even atomic artillery shells. All this was taken out of service as a result of the so-called gentlemen's agreement between Secretary General Gorbachev and US President George W. Bush. Now only Russian SSBNs carry strategic nuclear weapons, to which 40% of the strike power of the Russian "nuclear triad" is tied. Obviously, Mikhail Sergeevich could not do anything good for his country, so his "legacy" once again needs to be revised. However, everything is not as simple as we would like.
Legally, there will be no problems with this, since we have no documented agreement with the Americans. There is only their word of honor and Gorbachev's. Difficulties may arise only with the implementation
technical
side.
More than 1991 years have passed since the conclusion of the "gentleman's agreement" in 30. Tactical nuclear warheads and their carriers removed from warships were sent to warehouses, and most of them have already been eliminated. Neither Russia nor the United States has sea-based tactical nuclear weapons in combat-ready form. However, if there is
political
At will, existing sea-based anti-ship and cruise missiles can be quickly equipped with a special warhead. Equipped with a nuclear warhead, for example, the hypersonic Zircon will be a very serious argument.
The problem will be only with the actual use of tactical nuclear weapons by the fleet. Hitting a stationary target like a military airfield is easy. It is difficult to find a moving and maneuverable target in the oceans and accurately aim at it, and then also correct an already fired missile during the flight. He spoke about this in an interview with the publication
"Sight"
Russian military expert, researcher at the Institute of World
economics
and International Relations (IMEMO) RAS Ilya Kramnik:
The main problem of the Russian fleet is not strike power. We are fine with this. There are difficulties in the means of reconnaissance and target designation. It's easy for us to destroy a target when we know where it is. But we have a hard time finding it. Before asking what the presence of nuclear weapons in the ocean will give us, I would first ask what target designation we will use them for.
The Liana satellite system, which is designed to fulfill such purposes, has not yet been formed. At the same time, one should not forget that military satellites will be priority targets for enemy anti-satellite missiles in the event of the start of real hostilities. To improve security, the Ministry of Defense is launching spacecraft of the Liana network to a height of 800-900 kilometers. Alas, even such a high orbit is not a salvation.
So, back in 2007, China successfully shot down its old meteorological satellite, which was at an altitude of 850 kilometers. The Americans were the first to create their own anti-satellite missiles. This spring, US Vice President Kamala Harris announced that the United States will no longer test direct ascent anti-satellite weapons. It seemed like a victory, but no.
The Pentagon already has several X-37B unmanned spacecraft that can stay in orbit for a long time and easily turn into carriers of anti-satellite weapons. According to some reports, the flight altitude of the X-37B mini-shuttle can reach 1064 kilometers. In other words, if desired, the United States can quickly "blind" the Russian Navy, depriving it of the ability to carry out target designation of missiles with both conventional and nuclear warheads. Unfortunately, it is impossible to rely solely on our small satellite constellation, the fleet
Need
their carrier-based aircraft and AWACS drones.
Nevertheless, even now, the return of tactical nuclear weapons will dramatically increase the combat capability of the Russian Navy. In particular, depth charges and torpedoes with a nuclear warhead are needed, which will increase anti-submarine warfare capabilities against the US Navy and NATO countries.