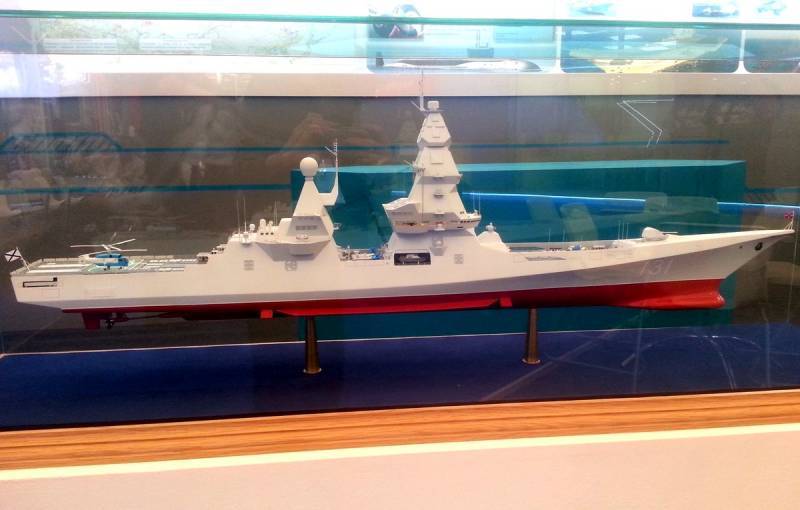 The nuclear destroyer of project 23560 "Leader" was supposed to replace three classes of ships of the 1st rank in the Russian Navy at once - the obsolete destroyers of project 956 "Sarych", the BOD of project 1155 and the missile cruisers of project 1164 "Atlant", which included the one who died on Cherny sea ​​"Moscow". However, due to
technical
complexity and high cost, the project of a promising Russian destroyer stalled and was actually suspended. But can the "Leader" find a second life in a different form as ATAVKR (nuclear heavy aircraft carrier)?
Why are aircraft carriers really needed?
Yes, we are returning to the aircraft carrier theme again and will do it for as long as necessary. This question is too serious to be turned into a "farce". Why does our navy today, in the age of hypersonic speeds, need these "huge floating targets"?
It must be understood that the concepts of naval combat between Russia and its potential opponents are fundamentally different. The Anglo-Saxons, who have a century of experience in operating aircraft carriers, have relied on carrier-based aviation. In the event of a real collision, fighters and attack aircraft will hit the ships of the Russian Navy with air-based anti-ship missiles and anti-radar missiles without entering their air defense coverage area. Whether our KUG will see an aircraft carrier strike group in a timely manner and whether anti-aircraft missiles will be able to intercept a massive strike, to be honest, is a big question. A potential adversary will have a clear advantage in reconnaissance and target designation, since it has AWACS carrier-based aircraft that will be the first to see the target and will be able to direct aircraft at it, which will operate from a safe distance "far hand". What can oppose this to the Russian Navy?
Unfortunately, not much. Not having the aircraft carriers it needed so much, the Russian fleet relied on missile weapons. Our missiles are really good, no irony, but the problem may lie in aiming them at the target. It's one thing to hit the bull's-eye on a stationary target, it's quite another to hit a moving one, which moves in space at a speed of 30 knots, like the American AUG. That is, first you need to see a potential target, preferably first, aim at it, and then an anti-ship missile fired from a distance of several hundred kilometers must be adjusted so that it hits where the enemy aircraft carrier is at the current time, and not at the time of the salvo . How to do it?
The reconnaissance capabilities of shipborne radars are limited by the radio horizon. This problem is solved simply - you need to raise the radar as high as possible, by plane, helicopter or drone. For this, the US Navy has the best that is possible - carrier-based AWACS aircraft (AWACS), which are based on nuclear aircraft carriers and are launched using catapults. In the USSR, for the needs of the Navy, the Legend satellite constellation was created (GRAU index - 17K114), which made it possible to track and predict the tactical situation in the oceans and transmit real-time information to ships, submarines and ground points.
Alas, the short life of Soviet satellites predetermined her fate. Under pressure from the West (those still environmentalists!) A ban was introduced on the use of satellites with a nuclear power plant, and in 2006 this satellite constellation finally ceased to exist. The Russian navy, with all its wonderful missiles, is half blind. To replace the Legend, the Russian Ministry of Defense ordered the development of the Liana ICRC, consisting of several satellites, but it has not yet been finalized. These are our harsh realities.
Thus, aircraft carriers are not needed at all in order to "chase the Papuans", as adherents of the "anti-aircraft sect" claim, but, first of all, for reconnaissance and target designation of sea and air-based anti-ship missiles, as well as in order to quickly detect enemy fired anti-ship missiles and direct anti-aircraft missiles of their own air defense system at them. About how important it is to see and shoot down a low-flying anti-ship missile, we can draw conclusions from the tragic fate of the Moskva missile cruiser. It is still possible to provide air defense for your KUG and the deployment area of ​​the RKPSN, provide anti-submarine warfare with carrier-based PLO helicopters, and also strike and counterattack enemy AUGs with fighters. And, yes, from an aircraft carrier, if necessary, you can "drive the Papuans" with carrier-based aircraft, and not only them. These are such "useless vessels".
Destroyer turns into ATAVKR?
In fairness, we note that the construction of a heavy nuclear aircraft carrier with catapults capable of launching carrier-based AWACS aircraft is a complicated and expensive business. The Americans, the French, who were helped by the United States, and the Chinese have their own deck AWACS. The PLA Navy will start operating them from its newest aircraft carrier, the Fujian. The development of the domestic AWACS under the name Yak-44 went to the USSR, but modern Russia does not have its own carrier-based AWACS aircraft. There are several carrier-based Ka-31 helicopters, the performance characteristics of which are seriously inferior to aircraft.
Due to the lack of relevant technologies in all other countries, with the exception of the two superpowers, the most promising direction is the replacement of carrier-based aircraft with ersatz in the form of drones. Turkey intends to turn its first universal amphibious assault ship Anadolu into a "drone carrier" by overpowering reconnaissance and strike UAVs. Iran, one of the world leaders in the field of unmanned aircraft, is now following the same path. Recently, a whole unit armed with UAVs of various types was created as part of the Southern Fleet of the Islamic Republic Navy. The Iranians have deployed drones, ranging from light to heavy, not only on ships, but even on their diesel-electric submarines. Due to this, an observation zone with a radius of several hundred kilometers is formed around each pennant, in which the Iranian Navy can conduct aerial reconnaissance and launch missile and bomb strikes.
But back to the main topic of the article. Can the destroyer "Leader" get a new life as a nuclear-powered heavy aircraft-carrying cruiser (ATAVKR)?
Why not. Despite the name destroyer, it is actually a real cruiser with a total displacement of 17000-19000 tons. The greatest length and width are, respectively, 230 and 23 meters. The power plant is nuclear, which gives the ship an unlimited range at a maximum speed of 32 knots. The ship's ammunition load should be from 80 to 130 anti-ship missiles, anti-submarine missile torpedoes, cruise missiles for firing at ground targets and medium and long-range anti-aircraft missiles. A formidable force, and this is definitely not a destroyer.
The real destroyer will be a modernized Project 22350M frigate of the SuperGorshkov type with a total displacement of 8000 tons, designed for operations in the far sea and ocean zones. The unification of frigates and destroyers is the right decision, greatly simplifying their production and subsequent maintenance. A "leader" as a cruiser may be needed in the medium term, when the time comes to change both of our last Orlans for something - the heavy nuclear missile cruiser Pyotr Veliky and Admiral Nakhimov. Or not?
In fact, after completion, the project 23560 "Leader" can be turned into an aircraft-carrying cruiser. A significant part of the strike weapons will have to be abandoned, giving up space under a solid take-off deck, and the island superstructure will be shifted to the right. Of course, no fighters can be placed on it with a displacement of less than 20000 tons, but instead of aircraft, the Leader can be based on an air wing consisting of drones and helicopters, strike and anti-aircraft defense. UAVs can be both reconnaissance and strike, and AWACS.
In view of the above, the receipt by the Russian Navy of carrier-based AWACS UAVs is of exceptional importance for increasing its real combat capability and combat stability. A heavy aircraft carrier will not replace such a ATAVKR, but it will be able to solve a number of critical problems of the Russian Navy with reconnaissance and target designation.