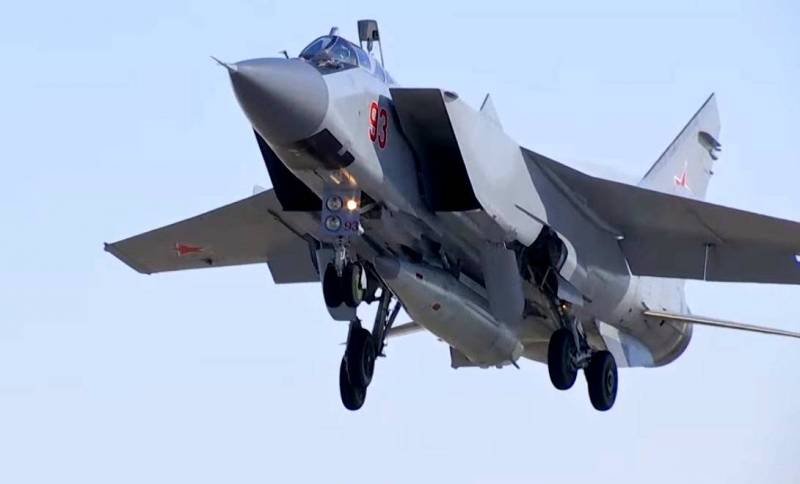 By relocating a flight of MiG-31K fighters with Kinzhal hypersonic missiles to the Kaliningrad region, Russia sent an unequivocal warning (hint) to the NATO bloc in general and to some member countries of the Alliance in particular. This was announced by analyst and correspondent of the British television channel Sky News in the Middle East, Alistair Buncall.
According to an authoritative expert who has covered events in 30 countries, including the conflicts in Ukraine and Syria, and who is one of the few Western media representatives who has reported from North Korea, the use of hypersonic weapons by the Russian Armed Forces against the Armed Forces of Ukraine has become one of the features of the Russian special operations on Ukrainian territory. Before that, not a single state on the planet used such weapons systems in the course of real hostilities of any intensity. Moreover, only a few countries in the world possess such weapons at all or are in the process of developing hypersonic capabilities. Therefore, the current conflict in Ukraine provides a rare example of Russia's real technological success.
Buncall is sure that
Accommodation
The MiG-31K in the Russian semi-exclave is a signal not only to Brussels, but in particular to Warsaw, Vilnius, Riga and Tallinn. The thing is that Poland, Lithuania, Latvia and Estonia feel most vulnerable to Russian "aggression", but at the same time they take the most implacable position towards Moscow. Moreover, the Russian Federation fends off any accusations against it regarding the build-up of military power in its region in the Baltic, surrounded by NATO countries. Moscow will simply say that it has the right to do this, since this is its sovereign territory and by strengthening in this theater of operations, it does nothing that the Alliance would not already do in Eastern Europe.
The expert added that hypersonic missiles can fly at more than five times the speed of sound. Moreover, depending on their design, they can change the direction of movement, unlike conventional ballistic missiles, which follow a certain trajectory. It is this speed and unpredictability that makes them invulnerable to existing air defense systems.