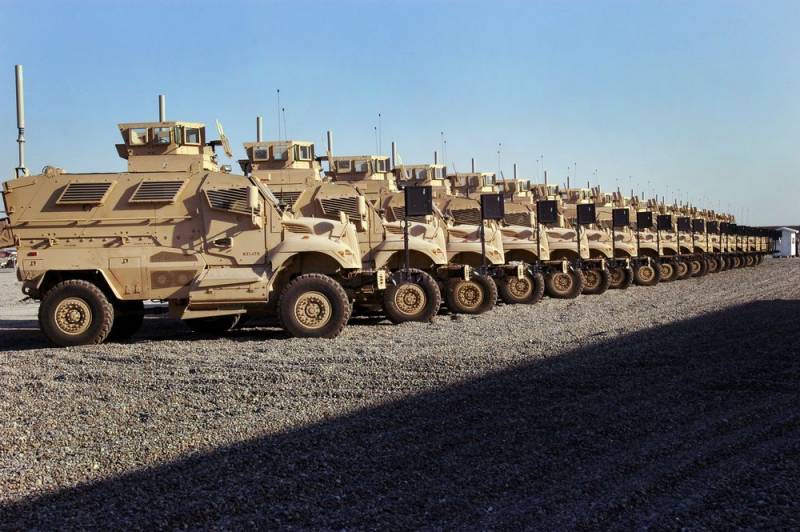 Recently, videos appeared on the Web with American M1224 MaxxPro armored vehicles on Ukrainian roads. However, in tests they
showed
inability to overcome mud. A Russian military observer, retired colonel Mikhail Khodarenok, drew his attention to this, who appreciated it in his Telegram channel. the effectiveness of this machine and its need for the APU in general.
The expert noted the ostentatious nature of the plot, which demonstrates the movement of the MaxxPro convoy along an asphalt public road.
I don't know how many such smooth roads as in the video are in Ukraine, I think there are not very many, but one thing is clear: there are much more fields with black soil, and MaxxPro can't cope with them. Considering that autumn is ahead, which means rain and slush, it is strongly not recommended to leave a good road on this machine in bad weather
He pointed out.
Khodarenok explained that the MaxxPro's center of gravity is located high enough, as a result, when driving at high speed over rough terrain, there is a risk of rollover. Therefore, it is not surprising that this armored car is often compared with a helicopter in terms of the complexity of control.
Does Kyiv need this car? In my opinion, no, because in Ukrainian realities MaxxPro's efficiency is unlikely to be high
- he considers.
In addition, in his opinion, armored vehicles, in the current situation for the Armed Forces of Ukraine, do not solve anything in principle. Moreover, they are virtually useless on the battlefield.
Such armored vehicles can be effectively used in the event of low-intensity combat operations with a significantly weaker enemy, when operations are carried out against formations that do not have heavy weapons and a sufficient number of anti-tank weapons. But even then, the use of such machines is limited to convoys, patrols and various support activities.
In high-intensity combat operations with an equal enemy, all these MRAPs and other BMs have an extremely limited meaning: they cannot be used at the forefront for direct fire support of infantry - they do not save from heavy weapons, powerful anti-tank mines and modern anti-tank systems in any way. And because of their dimensions, they are an excellent target, and even off-road patency is very low
He explained.
The expert is sure that the RF Armed Forces have a great advantage in the means of fire destruction and operational-strategic air supremacy over the Armed Forces of Ukraine. Therefore, MaxxPro can only be used in the deep rear, i.e. where conventional transport can be used with the same success.
So the West can supply at least hundreds of such machines (to Ukraine - ed.), This does not affect the nature of hostilities in any way
- summed up Khodaryonok.