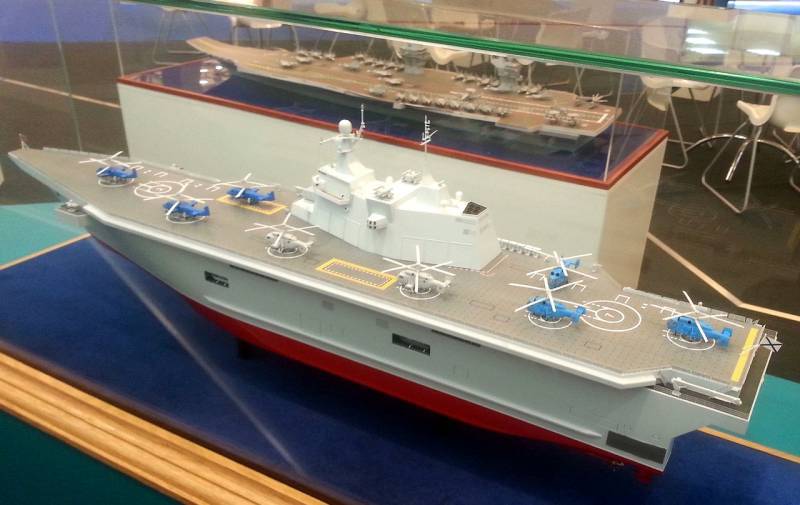 Project 23900 amphibious assault ships are considered one of the symbols of the expected revival of the Russian Navy. These are the largest and most multifunctional aircraft-carrying warships for the Russian Navy, which were laid down at the Zaliv shipyard in Kerch on July 20, 2020. However, since then there has been no concrete information on this project, except for a computer-drawn picture and a plastic mock-up shown at an exhibition a few years ago. And finally, some specifics appeared, but this only made more questions.
How and why they build UDC
First of all, it is necessary to say a few words about why universal landing ships are needed at all. The need for them arose during the Vietnam War, when the American aggressors had to land amphibious assault forces on the coast, actively defended by Vietnamese patriots. To avoid being hit by cannon artillery, the landing had to be carried out over the horizon, being at a distance of up to 30 kilometers from the coast. At the same time, it was necessary to provide air cover and airborne assault with the help of helicopters, as well as the overall command of all the forces involved in the operation. The result was a large-tonnage ship with a straight deck, capable of transporting marines, armored vehicles, helicopters, attack and transport, as well as serving as a headquarters.
The first universal landing ship was the Tarawa UDC with a total displacement of almost 40 thousand tons, carrying, in addition to the crew, 1903 marines, armored vehicles, as well as an air wing represented by 16 CH-46 helicopters, 6 CH-53 helicopters and 4 UH-1N helicopters . In total, 5 such ships were built in the series.
The successor to "Tarawa" was the UDC "Wasp". With a full displacement of 40,4 thousand tons, it can carry 1893 marines and armored vehicles. The Wasp air wing also looks more impressive: 30-32 CH-46 helicopters, 6-8 AV-8B Harriers or up to 46 CH-46 helicopters or 20 AV-8B aircraft. As you can see, Harrier VTOL aircraft were added to the rotorcraft, which strengthened the capabilities of the US Marine Corps. In total, 8 UDCs were built in this series, but one was lost due to a severe fire during repair work.
The pinnacle of the evolution of this class, of course, are UDC type "America". With a total displacement of 45,7 thousand tons, each such ship carries up to 1871 marines, armored vehicles, as well as a very impressive air wing: 12 MV-22, 6 F-35B, 4 ΑH-1Z, 4 ΜΗ-53, 3 UH-1 or 22 F-35B. That is, the outdated Harriers have been replaced by fifth-generation fighters with short takeoff and vertical landing. De facto "America" ​​is a real light aircraft carrier. In total, it is planned to build 11 pieces in a series.
What do all three ships have in common? If you look from above, you can see that the deck of the American UDC is a rectangle that allows you to make the most efficient use of every square meter of its surface, as well as take off and land fighters.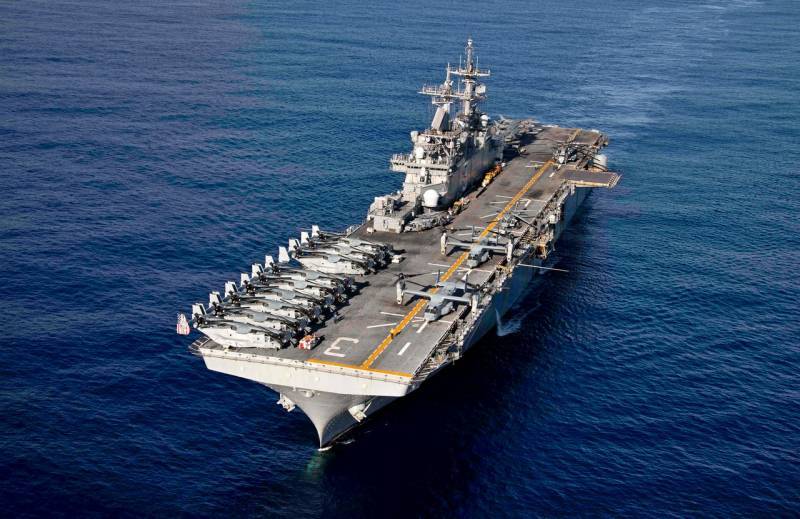 The Spaniards went a slightly different way, who made their own variation on the theme of the Wasp UDC, equipped with a continuous longitudinal take-off deck and a springboard on the bow, called the Juan Carlos I L61. On the basis of this project, the Australians built 2 Canberra-type UDCs, and the Turks built their TCG Anadolu (L-400) and are planning a second one. This will allow them to operate either American F-35B fighters or drones, which, in particular, Ankara has relied on.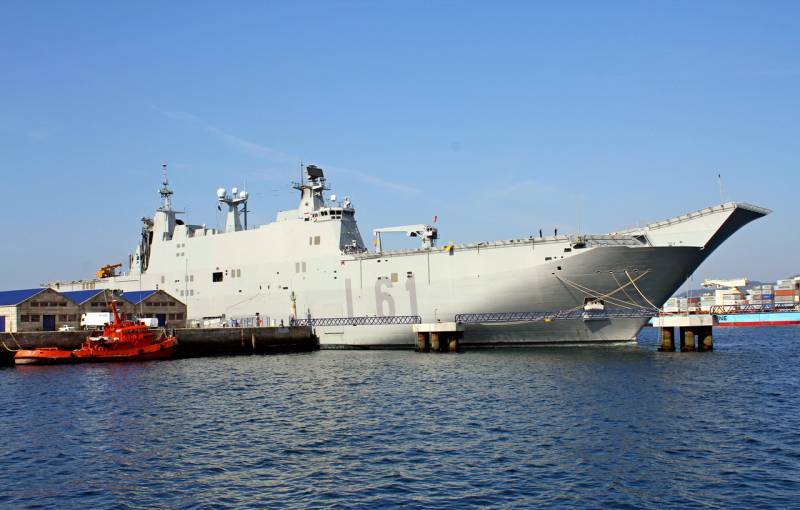 Our "special" way
And now I would like to return to the Russian project 23900. In the public domain, there were only a picture drawn on a computer, as well as a layout that a year ago
caused
we have heated debates in the comments. Well-founded questions arose why the superstructure-island is so massive, and the bow of the ship is so pointed. In fact this
technical
the solution reduces the usable deck area of ​​the domestic UDC, which could be used to accommodate additional helicopters, and also makes it impossible for a fighter to take off horizontally in a shortened pattern, if we ever have such SKVVP.
And now, at the Army-2022 International Military-Technical Forum, a new layout of the UDC appeared, which surprised even more than the previous one. You can see exclusive photos
here to register:
.
At first
, judging by its dimensions and models of helicopters on the deck, by which you can determine the proportion, you can not dream about 40 thousand tons of full displacement promised by the developer.
Secondly
, there is a feeling that the superstructure-island has become even more massive than before, taking away half the width of the deck.
Thirdly
, the deck seems to have become even shorter than in the previous layout, and instead of a rational rectangular shape, it began to resemble an element of some kind of puzzle. Yes, "pretty" and "stylish", but, alas, non-functional. You might think that the notorious "designer girls" painted it.
The question arises, was it worth giving such a technically complex project to JSC Zelenodolsk Design Bureau, which has no experience at all in the development of large-tonnage warships? Maybe some Nevsky Design Bureau could do better? It painfully looks like a planer.