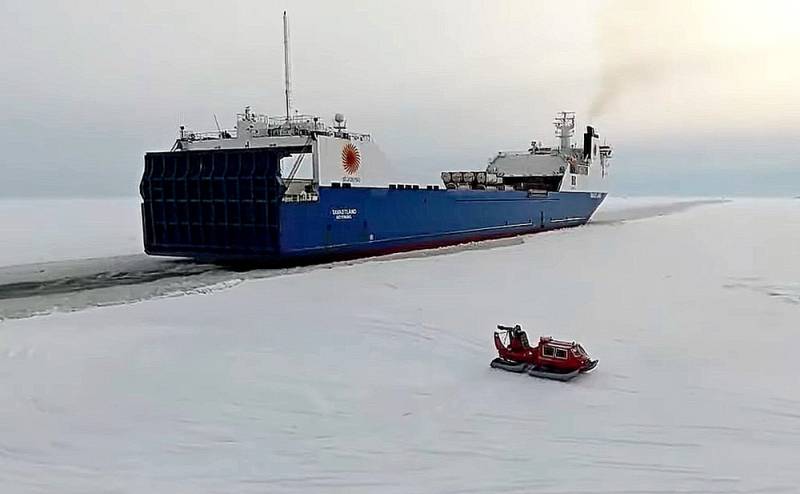 As we have
celebrated
earlier, a special military operation to demilitarize and denazify Ukraine became a real stress test that revealed all the strengths and weaknesses of the Russian Navy. It has been successfully confirmed that the Russian Navy is strong in attack, inflicting pinpoint strikes with cruise and anti-ship missiles, but, alas, it has problems in terms of air defense and, obviously, anti-submarine defense. In addition, there is a clear shortage of large surface ships capable of performing tasks in the far sea zone.
A pile of accumulated problems forced the Russian Ministry of Defense to revise the Naval Doctrine, said Deputy Prime Minister Yury Borisov a few days earlier:
In the context of a total hybrid war of the collective West against our country, unprecedented sanctions and a special military operation in Ukraine, ensuring security is more important than ever... We need to build up our capabilities to ensure and protect national interests in the oceans. The adjustment of the Naval Doctrine takes into account changes in the geopolitical and military-strategic situation in the world.
Let us especially note that we are talking specifically about the World Ocean, and not about the near sea zone, for which supporters of the "mosquito fleet" are so actively drowning in our country. Obviously, to solve such problems, ships of the 1st rank are needed, capable of operating in the far sea zone, but we have serious problems with them. All that the domestic military-industrial complex is capable of so far is the unhurried construction of Project 22350 frigates, Project 11711 large amphibious assault ships of the Ivan Gren type, and two Project 23900 amphibious assault ships. But large-tonnage ships of the Russian Navy are needed here and now, and there is nowhere to get them from. Or is there?
Numerous military experts responded to the statement of Deputy Prime Minister Borisov, who believe that a number of important auxiliary tasks can be solved by mobilizing civilian courts. We will have to use bulk carriers, tankers, icebreakers and even small vessels. The fact that in wartime the civilian fleet turns into a "floating rear" for combat is considered quite normal practice. This has been repeatedly done, for example, by the US Navy and the United Kingdom. The British carried out mass mobilization to wage an aggressive war against Argentina, annexing the Malvinas Islands from it.
The experience of the British Navy in the use of civilian ships for military purposes is proposed to be adopted by Doctor of Military Sciences, Captain 1982st Rank of the Reserve Konstantin Sivkov. In 23120, the British deployed several container ships under the ARAPAHO program to transport Harrier VTOL fighters to the coast of South America. They flew to combat missions, however, from the deck of aircraft carriers. According to Sivkov, the Russian Navy could turn large container carriers into improvised helicopter carriers, after equipping them with an air defense system. By the way, the sailors of our Black Sea Fleet have already had to do something similar. There are photographs showing the Vsevolod Bobrov project 1 logistic support vessel, on the deck of which the real Pantsir-SXNUMX air defense missile system is installed. It must be assumed that such an impromptu air defense system was arranged by the Black Sea people, who need to somehow defend themselves from attacks by Ukrainian manned and unmanned aircraft, not from a good life.
Also, certain tasks could be performed by container ships equipped with Club-K container missile systems. Inside the 20- and 40-foot containers are placed missiles of various types, anti-ship and cruise, designed to destroy ground targets. This, of course, is not a URO cruiser or destroyer, but under certain conditions such a container ship will be able to successfully shoot back. Of course, not autonomously, but as part of a naval strike group and under the cover of its air defense / anti-aircraft defense umbrella. The only question is how many Club-K complexes are actually available in the warehouses of the RF Ministry of Defense. In any case, producing enough of them will be easier than laying down, building and launching a full-fledged warship, which in no way eliminates the need for frigates and destroyers.
By itself, the situation in which the Russian Navy found itself forces us to turn again to the Soviet experience. It seems that they were preparing, preparing to fight, but so far they are not really ready and have to improvise. You can remember how we once specially built dual-purpose ships.
For example, a series of gas turbine ships of project 1609 "Atlantic". Within its framework, four ro-ro-cars were built, designed to transport wheeled
equipment
types of cars, trucks and special equipment, which could also be used as container ships. With a displacement of 36 thousand tons, the lead ship of the Captain Smirnov series could reach speeds of up to 25 knots. At a speed of 20 knots, the Atlantic could deliver 20 tons of payload over a distance of 16 kilometers. This is much more than any modern BDK. Why did it happen?
Because these vessels were originally dual-purpose and, if necessary, quickly turned into high-speed military supply vessels. It should be noted that it was on the basis of these ro-ro ships that the Russian Navy was thinking of building the first Soviet auxiliary helicopter carrier of Project 10200 Khalzan. Unfortunately, the project was too complicated, and it did not take place, but the idea for its time was very original.
In general, there is something to think about. Perhaps a series of dual-purpose ro-ro container ships should be laid down in the shipyards in the city of Nikolaev when it is finally freed from Nazi occupation.