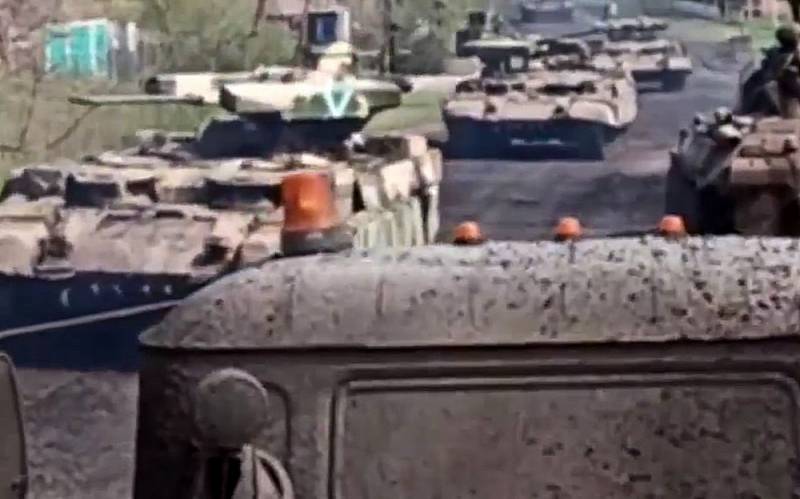 A video has appeared on the Web showing how a convoy of Russian Terminators is moving in the Donbass. Where exactly the BMPT was filmed is not reported.
The footage documented at least five of the mentioned combat vehicles with "V" markings on their armor passing by another column of Russian troops moving in the opposite direction. This is probably the moment of regrouping formations, when some units retreat to rest, while others go to the front line.
"Terminators" are regularly located in separate (special) companies of a certain number of tank regiments of the Ground Forces of the RF Armed Forces. Such a company consists of 9-10 BMPT units. However, how many Terminators are in service with Russia is unknown. The basic armament of the BMPT consists of: two 30-mm 2A42 cannons (900 rounds); one 7,62-mm Kalashnikov tank modernized machine gun (PKTM), put into service in 1998 (2000 rounds); four anti-tank guided missiles (ATGM) of the Ataka type 9M120-1 (UR 9M120-1F, 9M120-1F-1) with a laser guidance system; two AGS-17 grenade launchers (300 shots in a single tape for each).
We remind you that during the Russian special operation on Ukrainian territory BMPT "Terminator" were for the first time
spotted
On May 15, as part of a mechanized column near the city of Severodonetsk in the Luhansk region, for which there are now battles with the Armed Forces of Ukraine.