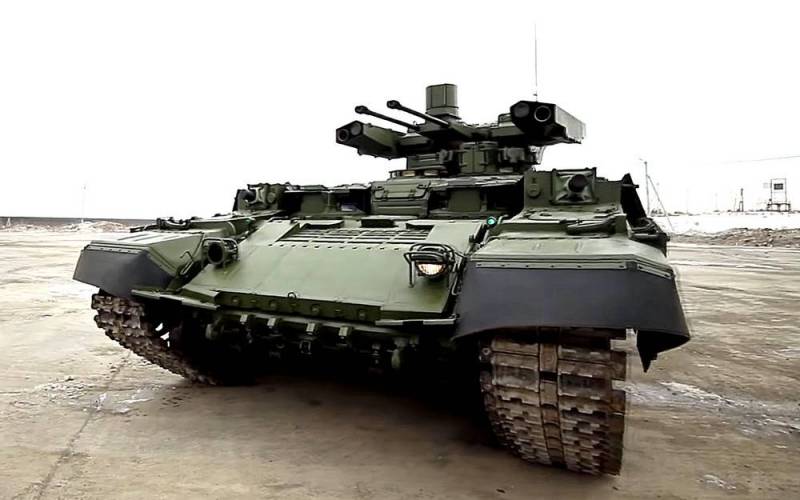 During the Russian special operation on Ukrainian territory, real footage from the scene periodically appears on the Web. This time, an eyewitness recorded the appearance of a column of Russian tank support combat vehicles in the Donbas.
The footage was filmed in the area of ​​Severodonetsk. This suggests that BMPTs of the Terminator family have entered the combat zone.
Similar combat vehicles were developed by Uralvagonzavod two decades ago. Samples were created on the basis of the T-72 and T-90 tanks. BMPT has been gradually improved to meet the requirements of the military. After numerous improvements, the Terminator 2 was born.
But in 2010, the Russian Ministry of Defense announced that it was refusing to purchase BMPTs in general and from converting obsolete tanks (T-55 and others) under this project. But in 2011, Kazakhstan acquired 10 BMPT units for its army.
In 2017, BMPTs were tested in Syria during the fighting. In 2018, the BMPT was adopted for equipping the RF Armed Forces. The first batch of 10 units was sent to the 90th Guards Tank Division for military trials. The crew of the BMPT consists of five people: a commander, a gunner, a driver and two operators of course grenade launchers.
The appearance of "Terminators" in the Donbass indicates that the Russian military wants
check
their usefulness in the conditions of hostilities in Ukraine. BMPTs are designed to be part of tank units in order to destroy enemy anti-tank weapons. They must effectively neutralize enemy personnel equipped with grenade launchers, anti-tank systems and other anti-tank weapons. In addition, the "Terminators" have the ability to hit tanks, infantry fighting vehicles, pillboxes, bunkers and other highly protected targets on the move and from the spot. It is not known how many such combat vehicles the RF Armed Forces have.