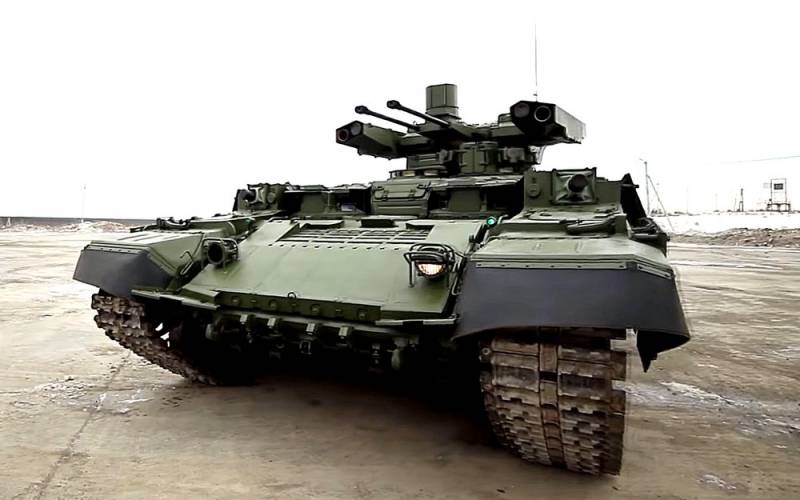 Modern local conflicts are increasingly being transferred to urban areas, where tanks are becoming "easy prey" for infantry armed with grenade launchers. Unlike NATO countries, where reinforced armored personnel carriers are used to support tanks, Russian engineers chose a different path.
According to our experts, even a very heavy infantry fighting vehicle has little chance of survival in urban combat. Therefore, domestic designers have created a fundamentally new car.
So, reinforced armor was installed on the time-tested and modified chassis of the T-72 tank. In turn, the turret was replaced with a remote-controlled uninhabited module. All of this was "hung" with a 30A2 42-mm cannon, a PKTM machine gun, two AG-17D automatic grenade launchers and four Kornet missile systems. The car was named "Frame-99", but later the nickname "Terminator" became attached to it.
During the first field tests in 2006, the correctness of the concept of the technical appearance was confirmed, but there were many comments. In particular, the vulnerability of weapons.
As a result, after revision, "Terminator-2" was born. The new vehicle received a second cannon, and the Kornets were replaced by Ataka-T complexes.
The second version of the "Terminator" went to Syria for testing, after which it received orders from Kazakhstan and Algeria, where it was considered that one such machine was capable of surpassing two motorized rifle platoons in terms of its firepower.
At the moment, the Russian army is determining the optimal scheme for the tactical use of the Terminators. For this purpose, an experimental company has already been created in the 90th Panzer Division.
At the same time, Israel decided to choose a similar approach, having created a similar machine on the chassis of its Merkava tank, which, despite the "skepticism" on the part of NATO, confirms the promise of the solution implemented by domestic designers.