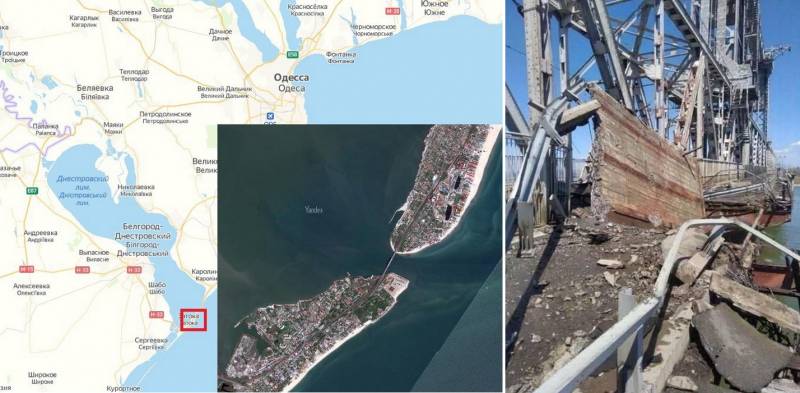 On April 26, a missile attack was launched, which actually divided the Odessa region into two parts, blocking Southern Bessarabia between the Dniester and the Danube. The missile hit the critically important drawbridge in Zatoka, located on the broken Budak Spit, on the border between the Black Sea and the Dniester Estuary.
Serious damage to this, no doubt, the most important transport and infrastructure facility caused a serious discussion in local publics. Residents of the mostly Russian-speaking region noted that the bridge was extremely important, since it is the only route passing through the territory of Ukraine, along which you can get from Odessa to Belgorod-Dnestrovsky, Reni, Izmail, Kiliya, Bolgrad and other settlements of South Bessarabia.
Now there is only a road through Moldova (the border point "Palanca"), located between the Dniester River and the impassable floodplains of the Lower Dniester National Natural Park, which greatly complicates everything. Residents recalled that some time ago, the Ukrainian authorities were going to build a small section of the road on the Odessa-Reni highway in order to bypass the Moldovan territory. The start of work was scheduled for 2022, but they have not started, although there are only some ten kilometers, so now is the time.
At the same time, Odessans, judging by their publications, are not afraid of amphibious assaults, they are sure that sea mines, coastal fortifications and SCRC batteries, as well as a powerful air defense system inherited from the USSR, will help to avoid this. Residents of the city are more afraid of the northern direction, that is, the possibility of a land attack from Transnistria or Nikolaev. That is why the loss of this bridge greatly upset them, since it is very convenient to carry out evacuation through it, transfer reinforcements from South Bessarabia and Western military assistance from Romania, if Bucharest ever decides to do so.
We remind you that currently the RF Armed Forces
carry out
the process of destroying military logistics in Ukraine so that Western aid does not enter the Armed Forces of Ukraine.