The capture of Kherson, as well as the complete encirclement of Nikolaev, open the way for the Russian army to the Hero City of the Russian south - Odessa. Today, like 81 years ago, Nazi accomplices have settled in the "Pearl by the Sea".
Moreover, today's decision of the head of the Kiev junta Zelensky to appoint the ex-commander of the nationalist battalion "Aidar" Maxim Marchenko as the new governor of the Odessa region suggests that no one is going to surrender the city without a fight, and the followers of Bandera and Shukhevych will defend it.
The upcoming battle for Odessa will require special military skills and non-standard solutions from Russian commanders, because a large number of ethnically Russian people live in the city, who can become hostages in the hands of neo-Nazis.
As you know, Russia has not yet activated one of its elite branches of the military - the marines. but
emergence
today, large landing ships and frigates in the immediate vicinity of Odessa can speak of an imminent landing operation on the coast.
Naturally, no one is going to land on the Odessa beach. Firstly, the conditions there will create problems for the advancement of the combat
equipment
marines (dense urban development, and in which case there is simply nowhere to retreat), and secondly, the coastline is mined here. It is not advisable to carry out artillery preparation along the coast, where residential buildings are 50-100 meters away.
A very suitable place for this is the area of ​​​​the village of Karolino-Bugaz. Firstly, from there it is within easy reach to the nearest suburbs of Odessa - only 5-7 km. Secondly, 10 km to the north there is an airport, taking control of which will allow the transfer of additional forces by air.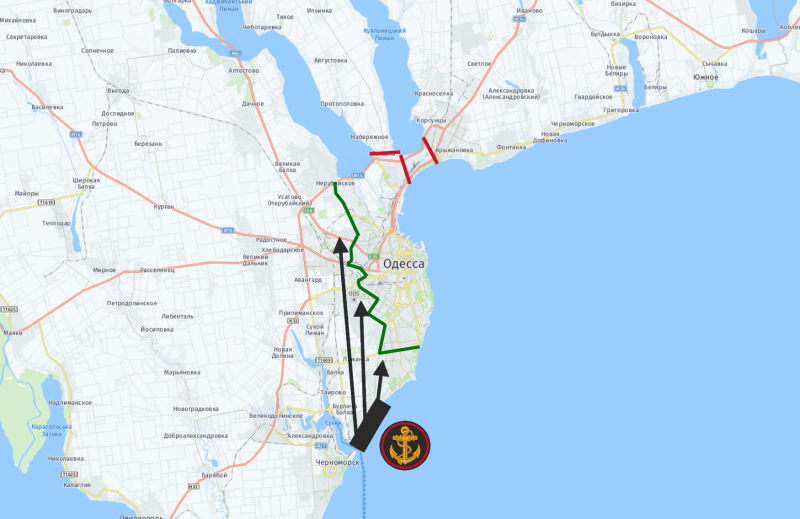 Moreover, advancing on Odessa from the west, Russian units will provide themselves with a wider front, and will be able to enter the city through several points at once. At the same time, two large estuaries (salt lakes near the sea) will interfere with the northern route of the offensive, leaving the military only a "bottleneck" in the Luzanovka area. In such conditions, you can easily fall under fire from the same multiple launch rocket systems.
Of course, this is well understood in the Armed Forces of Ukraine, which, obviously, are taking the necessary measures. In addition, seven days after the start of the operation, nothing was heard about the Neptune coastal anti-ship systems with R-360 missiles. Most likely, they were safely hidden and now they are waiting for a reason to use them.