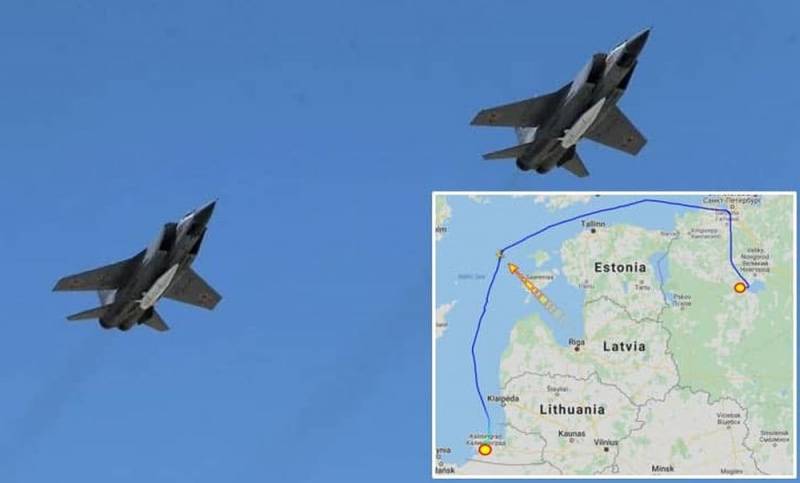 Against the background of disagreements with NATO, Russia is strengthening the grouping of its troops in the Kaliningrad region, the westernmost region of the country, which is surrounded by countries of the "peace-loving" Alliance. It became known that from the Soltsy air base in the Novgorod region to the Chernyakhovsk military airfield of the Baltic Fleet of the Russian Navy, located 4 km south-west of the city of Chernyakhovsk in a semi-exclave, 2 MiG-31K fighters, carriers of hypersonic missiles "Dagger ".
On February 4, the public was informed about this by the Telegram channel "Operational Line", referring to its sources in military circles, specifying that the flight in question took place a day earlier. The relocation took place over the Baltic Sea under the guidance of the lead aircraft Tu-154B-2. Moreover, on the first section of the route, the aircraft were escorted by Su-35 fighters of the Western Military District, and on the second part of the route, by Su-30SM fighters of the Naval Aviation of the Baltic Fleet of the Russian Navy.
The airfield "Chernyakhovsk" is part of the 7054th air base. The MA mixed aviation regiment is armed with Su-24M tactical front-line bombers with a variable-swept wing, and the re-equipment from Su-27 fighters to Su-30SM and Su-30SM2 is nearing completion. At the end of January, 4 units of Su-30SM2 arrived at the Chernyakhovsk airfield (the aircraft were accepted at the manufacturing plant in Irkutsk and flew to the Kaliningrad region).
We remind you that on January 29 at the Soltsy airbase in the Novgorod region
happened
an accident with a long-range fighter MiG-31K.