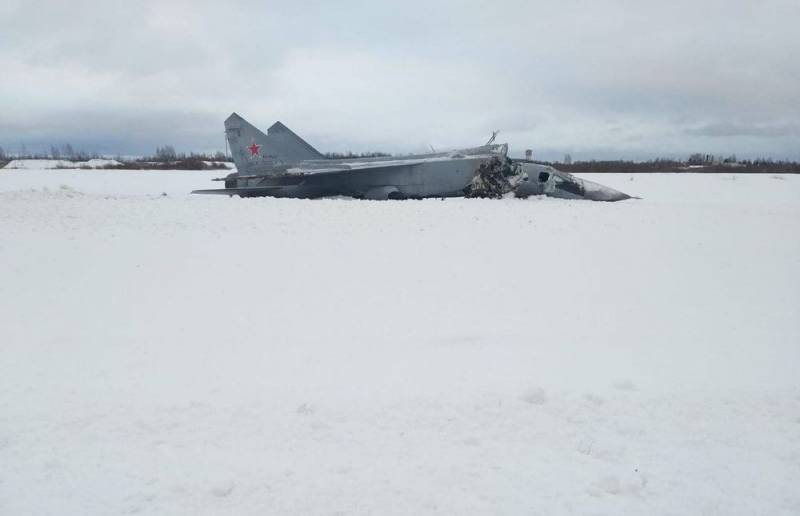 On January 29, at the Soltsy air base in the Novgorod region, located two kilometers north of the city of Soltsy, an aviation accident occurred with a MiG-31 long-range fighter. The plane crashed while trying to take to the skies, skidding off the runway into a field.
A photograph from the scene appeared on the Web, which shows the lost plane (everything is in order with the crew). It also became known that this aircraft is the carrier of the Kinzhal hypersonic complex - this is the MiG31K with tail number "92 red" (registration number RF-95217) from the newly created separate air regiment stationed in Akhtubinsk (Astrakhan region). This is one of the first 10 units of the MiG-31K of a separate squadron, which took up experimental combat duty in the Southern Military District on December 1, 2017.
In December 2021, the head of the Russian Defense Ministry, Sergei Shoigu, during the final board of the department, reported to the Supreme Commander-in-Chief of the RF Armed Forces Vladimir Putin that the first aviation regiment of MiG-31 fighters with hypersonic Kinzhal missiles had been formed in the Russian Aerospace Forces. However, it is not known exactly how many MiG-31Ks are in its composition.
In modern Aerospace Forces of the Russian Federation, air regiments consist, as a rule, of two squadrons (in the USSR, three). At the same time, the regular strength of an ordinary Russian air squadron is from 12 to 16 aircraft. Thus, Russia should have from 24 to 32 MiG-31Ks, if we proceed from the meaning of the words of the Minister of Defense. We remind you that the MiG-31K carries only one 9-A-7660 Kinzhal (or Kh-47M2 Kinzhal) air-to-surface hypersonic missile system capable of effectively hitting stationary targets and surface ships.