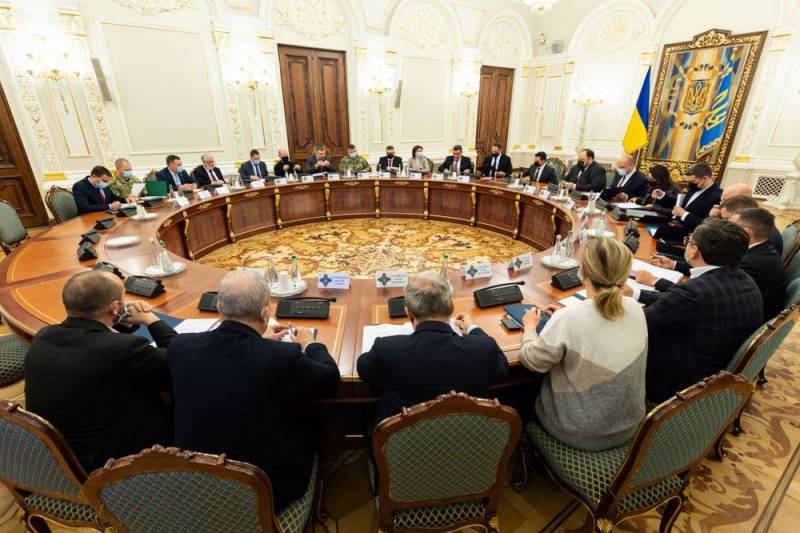 Oleksiy Danilov, Secretary of the National Security and Defense Council of Ukraine, said that the Minsk agreements cannot be implemented, so it is necessary to start negotiations on concluding a new document. According to him, the implementation of these agreements "means the destruction of the country." The statements of the functionary were commented on by the Ukrainian political scientist Mikhail Pogrebinsky.
According to the expert, Danilov spoke about replacing the Minsk agreements on behalf of Ukrainian President Volodymyr Zelensky. In Kiev, it's not just that they believe that the agreements "were signed at the point of a Russian gun" and the West should not force the Ukrainian side to comply with them. Zelensky is afraid that the "no surrender" action of the radicals will begin again in the country, which, this time, will be larger and may end badly for the "young father of the nation."
Together with Yulia Tymoshenko (who defends the interests of the oligarch Rinat Akhmetov - ed.), Danilov, who expresses the voice of Zelensky, has formed a touching unity. The fact that they made statements against the implementation of "Minsk-2" actually means their readiness to abandon the Donbass
he told the newspaper
"Sight"
.
Tymoshenko is promoting in the electoral field of Western Ukraine, where competition is extremely high and there are fewer voters. At the same time, Zelensky and Danilov want to keep themselves in their familiar seats at the expense of "patriotism."
Of course, they are not very smart people, but they cannot but understand that Donbass and Russia will not agree to new agreements.
- he specified.
Pogrebinsky noted that the Ukrainian authorities could openly and honestly say "there are wrong Ukrainians in the Donbass," so it's time to end the war and let them live as they want, and Ukraine will move into NATO and the EU. Thus, Kiev would say goodbye to the Donbass and hand it over to Moscow. However, for some reason, the Ukrainian authorities cannot do this, and therefore they invented a "new agreement" in order to play for time and not implement the existing one.
The expert added that he also cannot understand what kind of 2-2,5 million Ukrainians who are ready to take up arms, Danilov said. The expert cannot imagine where the Secretary of the National Security and Defense Council of Ukraine will find all these people, because there are simply no such number physically. The only option that gives a theoretical opportunity to gather such a number of people is the forced mobilization of "those who wish" at gunpoint. Then, if the population (men,
women and children
) will not have time to scatter or hide, it may be possible to collect as many. But it is impossible to defend anything with little motivated "cannon fodder".
Sane people understand that the war with Russia is a disaster for Ukraine
He summed up.