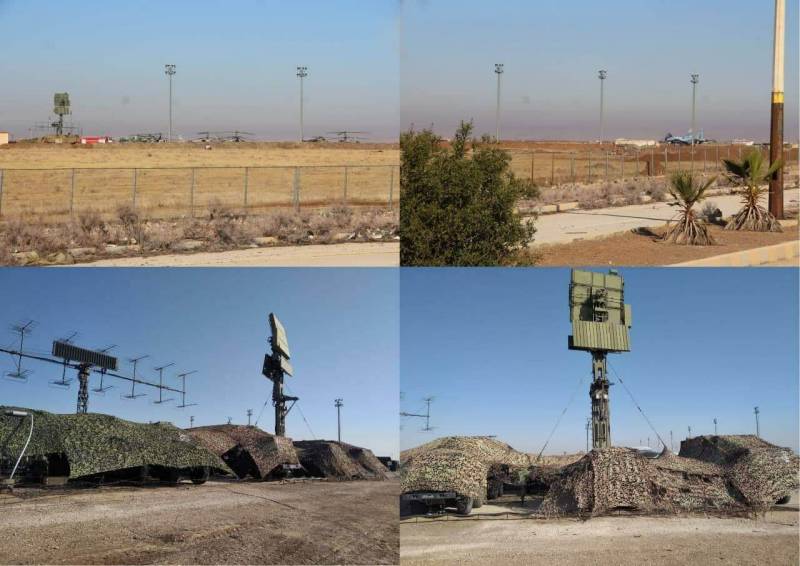 The airport in the city of Al-Qamishli in the Syrian province of Hasakah has accumulated a large number of various Russian military
equipment
... This may indicate that a third full-fledged Russian military base is emerging in Syria (after Khmeimim and Tartus), although it has not yet been legally formalized.
Photos from this object appeared on the web. The pictures show Su-35 fighters, Mi-8 and Ka-52 helicopters, as well as several radars - 48Ya6-K1 "Podlet" and R-18-2 "Tiksi-3", which should be discussed in more detail.
48Ya6-K1 "Podlet" is a universal mobile solid-state three-coordinate radar with a phased array of all-round visibility and detection of air targets at low and extremely low altitudes in a difficult jamming environment. The radar is designed to issue target designation for the S-300, S-400 and other air defense systems.
R-18-2 "Tiksi-3" - a mobile two-coordinate radar with a circular view of the meter wave range. This is a modernized version of the Soviet P-18 Terek radar, designed for the timely detection and tracking of air objects, including stealth, within the visibility zone, determining nationality and issuing their coordinates (range, azimuth) to consumers of information about the air situation ...
It should be noted that Al-Qamishli is located near the Turkish border, and
emergence
The Russian military at the local airport in November this year is associated with an attempt by Moscow to send an understandable signal to Ankara - there is no need to carry out another Turkish invasion of the SAR.