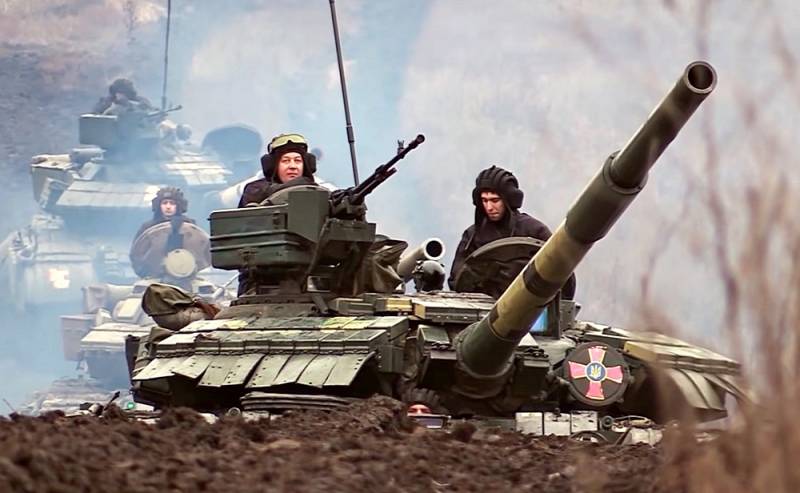 For the third week now, all the world media have been trumpeting about the military operation being prepared by Russia on the territory of Ukraine. Especially brave ones even publish the approximate timing of the offensive - the beginning of January 2022. The German press went even further and presented
invasion map
Russian army to the southern and eastern regions of Ukraine.
Be that as it may, the increase in the number of Russian troops on the Ukrainian border is indeed recorded.
Technique
, which was transferred to landfills in the Smolensk and Voronezh regions in the spring of this year, not only has not been returned to the places of permanent deployment, - its number, on the contrary, continues to grow.
Thus, the Kremlin makes it clear: the unrecognized republics of Donbass are under the military protectorate of Moscow, and in the event of an attack on them by Ukrainian troops, Russia reserves the right to conduct an operation to force Ukraine to peace by analogy with the Georgian events of 2008.
According to the press secretary of the Russian President Dmitry Peskov, there is only one way to relieve tension on the Ukrainian borders - by providing Kiev's guarantees of a non-aggression on the LPR.
President Putin has an absolutely clear-cut position. He spoke about the need to start negotiations on the guarantee system. They certainly cannot be one-sided. We also heard the statement of the US President that he is going to a videoconference with Putin with specific proposals on Ukraine. Apparently, this refers to the settlement of the Ukrainian crisis. This is important, and I think that President Putin will listen with great interest to these proposals, after which it will be possible to understand how they are capable of relieving tension. There is only one way to relieve tension - it is to understand how to insure against the possible intentions of Kiev to solve the problem of Donbass by force
- said Peskov in an interview with journalists on Channel One.
The head of the Kremlin press service also commented on the initiative of the President of the Russian Federation to start negotiations with NATO on the non-expansion of the Alliance to the east. Peskov skeptically assessed the prospect of such a dialogue, recalling that Vladimir Putin's proposal to convene a summit of the heads of five UN Security Council member states, made by him at the beginning of 2020, was never supported by Western partners.
We have such huge "Augean stables" in our bilateral (with the USA - editor's note) relations that it is hardly possible to clear them out in a few hours of conversation
- added Peskov.