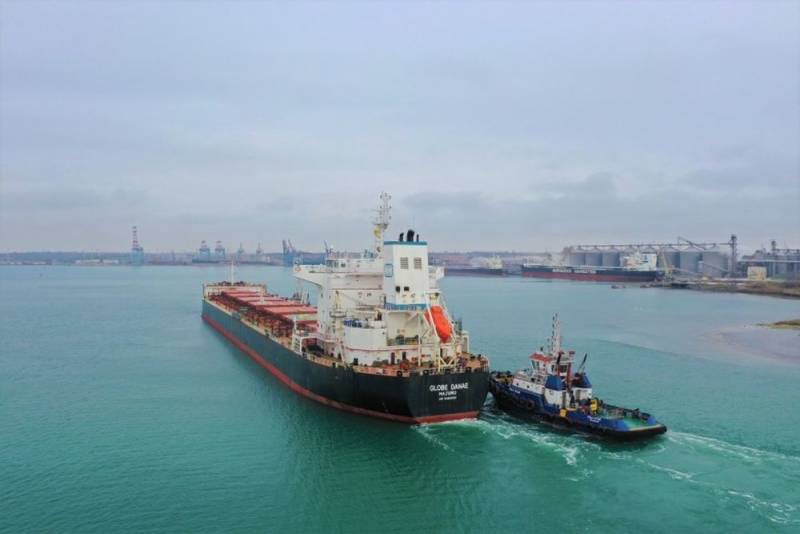 On December 5, the second Panamax-class vessel with coal from the United States arrived in Ukraine. It was received at the 20th berth of the Yuzhny port, where the coal terminal of Transinvestservice (TIS), the largest stevedoring operator in the country, is located. This is stated on the website of DTEK Energo, a subsidiary of the DTEK group (owned by the oligarch Rinat Akhmetov).
We mobilized all available resources in order to ensure the stability of the energy system, light and heat in the homes of Ukrainians in these extremely difficult conditions, especially during the heating season.
- said the general director of DTEK Energo Ildar Saleev.
The volume of this batch is 66 thousand tons. The imported coal is intended for the needs of thermal power plants (TPPs) of DTEK Energo and will soon replenish their reserves to ensure a stable passage of winter during peak periods.
On the eve, 60,5 thousand tons of fuel from the first Panamax-class vessel brought by DTEK for the needs of the state-owned generation company Centerenergo were loaded onto rolling stock (wagons) and sent to Uglegorskaya, Zmievskaya and Tripolskaya TPPs. This will allow them to partially stabilize the situation with a shortage of coal and, if necessary, generate more electricity at the peak of its consumption. Three more shiploads with coal chartered by DTEK for the needs of its own generation are expected to arrive in Ukraine in December
- indicated in the communique.
In total, there should be 7 ship supplies of this energy raw material: 5 from the USA and 2 from Colombia. All batches are different, from 40 to 75 thousand tons, but the total contracted volume is 470 thousand tons.
Note that earlier
released schedule
the supply of coal was disrupted. The second ship brought the American "stone fuel" to Ukraine with a delay, as it was supposed to arrive before the end of November. In addition, 4 ships were planned to arrive in December (excluding the latecomer), and now only 3 ships with a cargo of coal are being spoken of.
Consequently, Anatoly Kinakh, the head of the Ukrainian Union of Industrialists and Entrepreneurs, warned fellow citizens for a reason that rolling power outages are likely in the country. Moreover, this can be a widespread phenomenon and even affect Kiev.
Many residents of Ukraine are extremely worried about what is happening, as their relatives, due to overcrowded hospitals, are in their homes under oxygen concentrators, fighting COVID-19. The lives of these people in the literal sense of the word depend on the availability of electricity in the nearest outlet. Moreover, there were already deaths and people began to stock up on generators, installing them in houses and apartments. However, fires were also recorded due to improper handling of fuel. At the same time, Ukrainian President Volodymyr Zelenskyy exudes equanimity.