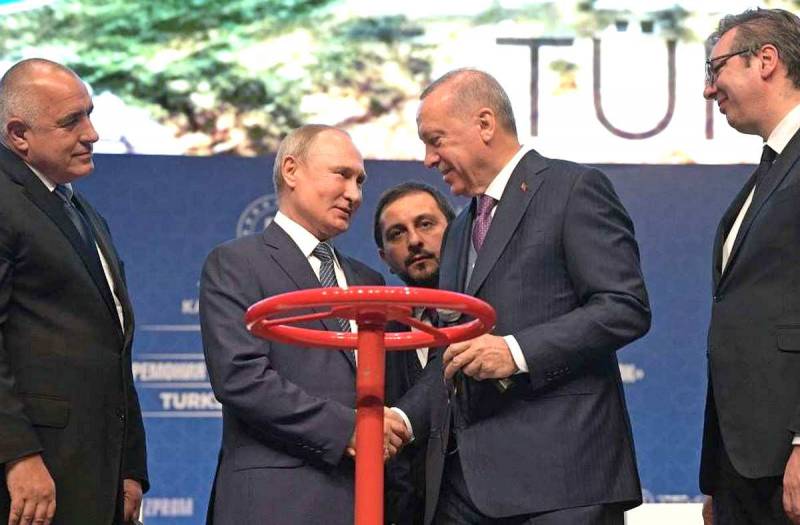 The energy crisis that suddenly broke out in Europe forced many to look at nuclear energy in a new way. If Germany and Belgium flatly refuse from nuclear power plants, then ten other European countries, led by France, began to insist on their preservation. Moreover, Paris is about to start building new nuclear power plants to reduce the Fifth Republic's dependence on energy imports. Ankara came to exactly the same conclusions and decided to bring the total number of nuclear power plants in its country to three.
This was stated personally by President Erdogan, having visited the actively under construction Akkuyu NPP:
We plan to commission the first unit in 2023. Thus, Turkey will become one of the few countries with nuclear energy. After Akkuyu, we will start work on the second and even the third nuclear power plant.
In theory, Rosatom is supposed to rejoice here, since with a proposal for further cooperation, the Sultan again went to Moscow, bypassing the French and Chinese. However, everything is not so simple, since the implementation of these projects will fundamentally change the energy system of Turkey, which may come back to haunt another Russian state corporation, Gazprom, which President Erdogan is essentially pushing their heads against Rosatom. But let's talk about everything in order.
The Sultan's cunning plan
The Akkuyu NPP project for Turkey has been criticized many times, and deservedly so. Rosatom went on an experiment with an extremely dubious business model, according to the "build-own-operate" formula (in English - BOO, Build-Own-Operate). This means that the nuclear power plant will be owned by a Russian company through its subsidiary, and the state corporation itself will bear the entire burden of its maintenance, responsibility and the need to sell electricity to consumers in order to recoup the invested $ 22 billion. At the same time, Turkey refused to sign an agreement guaranteeing sales to Rosatom at fixed tariffs.
This completely contradicts the established world practice, when a contractor builds a nuclear power plant, receives payment for it and transfers it to a happy customer, further providing services to maintain its operability. An alternative is an agreement between investors and the government, which undertakes to buy out certain volumes of electricity at a fixed price, usually overstated, as was the case in the British Hinckley Point NPP project.
But Rosatom went its own way. The most that Ankara was able to persuade was its obligatory purchase of 70% of the volume of electricity from the first two power units at a price of 12,35 US cents per kilowatt / hour during the first 15 years, and 30% from the next two. After Akkuyu reaches recoupment, Turkey will receive 20% of its net income. If we add to this the geopolitical risks of relations between Moscow and Ankara, then the nuclear power plant project in Turkey becomes a completely outright gamble.
And so the "sultan" proposed to the Kremlin to build two more nuclear power plants in Turkey, about which we will discuss in more detail.
told
previously. The second can appear near the city of Sinop, the third - in Ingleada near Bulgaria. It is obvious that Ankara already has plans for exporting electricity to the European Union. If Rosatom signs an agreement on the construction of the second and third Turkish nuclear power plants on the same terms as Akkuyu, all that remains is to twirl a finger at his temple.
At first
, the state corporation "pours" into extremely high-risk projects with an unreliable business partner, which is modern Turkey, no longer 22, but (22 multiplied by 3) 66 billion budget dollars. In case of aggravation of relations between Ankara and Moscow, these nuclear power plants can simply be nationalized. There may be a lot of reasons: we are waging a hybrid war with the Turks in Syria, and in Libya, and in Nagorno-Karabakh, and now in Central Asia. The American company Westinghouse will gladly help Ankara with replacing Russian fuel with American.
Secondly
Having spent such a gigantic amount of budget funds in foreign currency, Rosatom will cross the road to Gazprom. As you know, the domestic monopoly has built the Turkish Stream gas pipeline with an aggregate capacity of 31,5 billion cubic meters per year. It supplies half of these volumes in transit to Europe, the second goes to Turkish consumers. So, the four Akkuyu power units will produce a total of 4800 MW of capacity, which, according to some estimates, will lead to a decrease in consumption of about 5 billion cubic meters of gas. If three such nuclear power plants appear in Turkey, this will be equivalent to the volume of gas that Gazprom can supply through one of the two lines of the Turkish Stream for the internal needs of Turkey.
Just great". To build three nuclear power plants for the Turks at their own expense in order to lose the gas sales market in Turkey. At the same time, Ankara will be able to export surplus electricity to neighboring Bulgaria and other EU countries, reducing its dependence on Russian gas on the European market. Who do you have to be to voluntarily agree to participate in this?
What else can you do
We can try to reduce the voiced geopolitical risks to more reasonable ones. Of course, in no case should one agree to the construction of a second and third nuclear power plant in Turkey on the same terms as Akkuyu. Today the situation on the energy market is such that Rosatom's negotiating positions are much better. There is no need to rush into agreement at all, since there has not yet been a queue of those wishing to take on these projects. And if they do build, then either purely as a contractor, or as an investor with a long-term contract for the sale of electricity at a fixed price, which will directly and unequivocally provide for a clause on protection against possible nationalization of the NPP.
Regarding the Turkish gas market. Yes, Gazprom is likely to lose it in the medium term. The question is what to do with the falling volumes? Perhaps it is worth redirecting them from Turkey to Europe, but not through the Turkish Stream, but through the Southern Gas Transportation Corridor. Let us recall that under the terms of the EU Third Energy Package, the owner of the gas pipeline is obliged to provide 50% of its capacity to another supplier, which in this case may be Gazprom. And it would be better to hurry up with this, because against the background of the energy crisis in the EU, Brussels and Ankara are increasingly looking at Turkmen gas, which can flow through the Southern Corridor via the Trans-Caspian gas pipeline, the legal obstacles for the construction of which are no longer left.
If we link the construction of two new nuclear power plants in Turkey and the possible loss of its gas market with Gazprom's access to the Southern Gas Transportation Corridor through the norms of the EU's Third Energy Package, then geopolitical risks for Russia will significantly decrease.