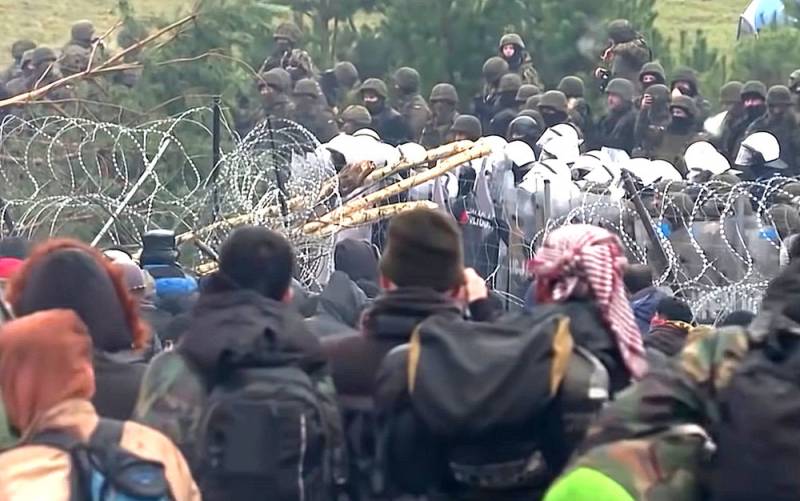 On November 9, the Belarusian media informed the international community that the Polish military began firing firearms over the heads of refugees on Belarusian territory. Thus, Poland committed not only an act of blatant barbarism towards unarmed people fleeing the countries destroyed by NATO, but also harmed interstate relations with neighboring Belarus.
As evidence, the Belarusians published a video on the Web, in the frames of which you can see a Polish security officer who, for no apparent reason, opens fire from a machine gun towards refugees from the Middle East through a fence at the border. The security officer fires two rounds, and the frightened people are pressed to the ground.
Why the security official did this is unknown. The refugees did not commit any illegal actions. Therefore, we can assume that the Poles have decided to expand the "range" of measures of psychological and other impact on already unhappy people.
According to the State Border Committee of Belarus, shots were heard from the adjacent side all last night, the Polish security forces also turned on loudspeakers, searchlights and stroboscopes (a device for reproducing bright light pulses).
On the Belarusian-Polish border near the Kuznitsa checkpoint, against the backdrop of impending frost, a whole camp with refugees has formed, in which now there are 2-4 thousand people. Warsaw pulled about 12 thousand security officials from various departments into this area.
A line of Polish security forces and various
equipment
... November 8 Poles
plentifully
They "treated" refugees with tear gas until many of them fell ill. In addition, the Poles even tried to disperse the refugees using the air waves from the blades of the helicopter. It's amazing why the Poles still haven't used the tanks that are nearby.