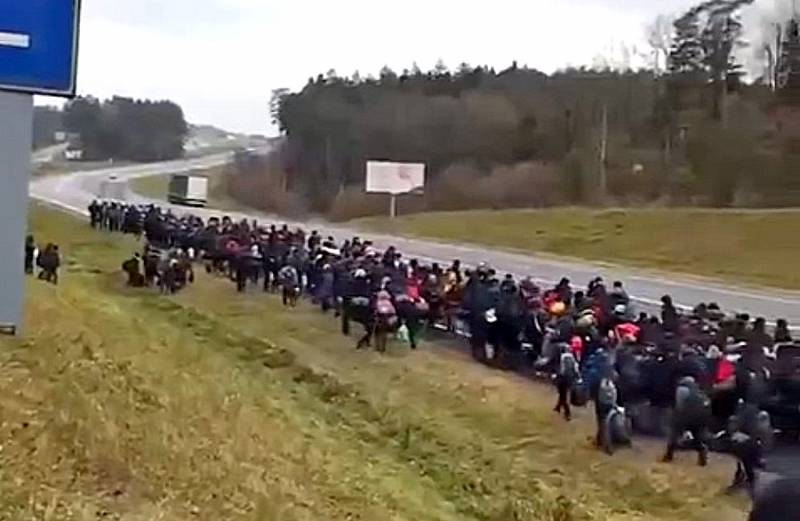 A difficult situation is developing on the border between Belarus and Poland due to migrants seeking to get to Polish territory from a neighboring state. On the morning of Monday 8 November, an organized crowd of illegal immigrants moved towards the Polish border.
The Polish side blames Belarus for the current situation. According to the press secretary of the minister - coordinator of the Polish special services Stanislav Zharin, Minsk is sending crowds of Asian guest workers towards the Polish border for mass penetration into Poland. According to Zharin, this is a purposeful action of the Belarusians against the Polish state.
At the same time, Belarus denies the maliciousness of its actions and is trying to ensure the safety of the movement of people along the highway leading to the border with Poland, as well as the movement of vehicles.
However, this does not make it easier for the Poles. On Monday, November 8, the Polish side announced the increased combat readiness of the combat units in the region. According to sources, soldiers of the 6st, 1nd and 2th brigades of the territorial defense forces are in 4-hour readiness for active operations.
Polish Foreign Minister Mariusz Kamiński noted that the authorities are monitoring the situation at the checkpoint in Kuznica and are ready for any actions of migrants. According to the head of the Polish military department, Mariusz Blaszczak, about 12 thousand Polish soldiers are serving on the border with Belarus.
Earlier, Polish sources reported that migrants were throwing stones and branches towards the border point. The country's authorities have signaled a very tense situation, which tends to further aggravate.