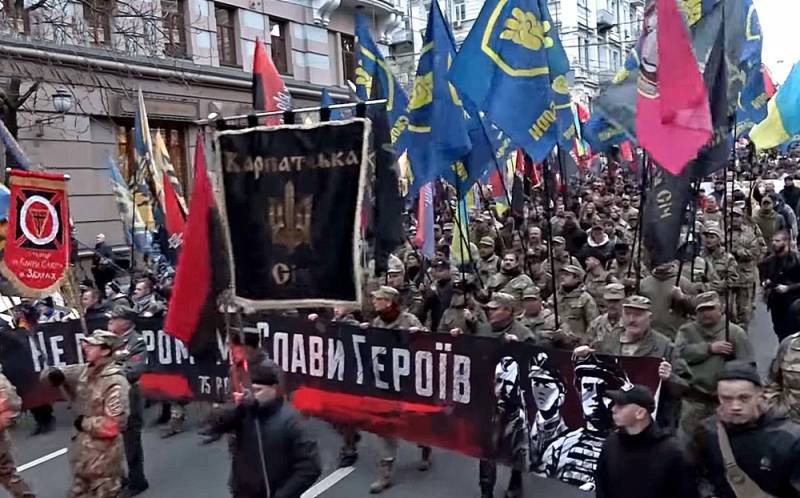 В
previous
In the text, thinking about why Putin was so excited about the adoption of the law on indigenous peoples in Ukraine, I explained that I personally, who live in this God-damned territory, do not care about this law. He does not infringe on any of my rights de jure, more than they are already infringed upon de facto. I have been living in a moral occupation for 7 years and it only gets worse from year to year. At the same time, I completely reject all accusations against me that only I myself and others like me are to blame. Themselves have chosen power for themselves - and disentangle yourself.
To all my explanations - and what choice did I have between Poroshenko and Zelensky, what, Poroshenko had to choose, they tell me - then fight! I'm fighting! For every word I say here on the Reporter, a real term shines for me in my homeland - 12 years. Below I will show what we have to experience here in Ukraine and how this struggle ends here. I didn't pick anything special. A selection of the usual for the country zhovto-blakit benches of events only for the last 14 days. And, believe me, these are still flowers!
Part 1. "Topaz"
June 30, just on the day of the Direct Line of Putin, in Kiev
beaten
the famous anti-Maidan member Ignat Kromsky, better known by his call sign "Topaz". The man was attacked while leaving the courthouse. Nothing special, they just broke their nose so that they knew their place, but rather to intimidate the rest who are still rockin 'on the boat (although no one is already rockin' on the boat!). "Topaz" got its fame back in 2014 during the Anti-Maidan times, after it was leaked to the Internet.
video
, filmed in the Mariinsky Park in Kiev.
On March 28, 2014, he was detained within the framework of criminal proceedings opened on the fact of the storming of the Kharkiv Regional State Administration on March 1. Then the anti-Maidanists stormed the Kharkiv Regional State Administration, which had been seized a week earlier by supporters of the Euromaidan, raised the Russian flag over it and set up a "corridor of shame" for the Euromaidan supporters who fell into their hands. "Topaz" no longer caught the assault of the Regional State Administration by the Vinnitsa "Jaguar", which happened in the early morning of April 22, when Avakov's chain dogs with a sudden attack in 8 minutes under the howl of police sirens and the roar of flash-noise grenades liberated the Kharkov Regional State Administration, tying up about 15 people on the spot. After that, most of them spent many years in the SBU pre-trial detention center on charges of attempting to overthrow the state system and were subsequently exchanged for prisoners of the "warriors of light" who fell into numerous cauldrons of the 70-2014 military campaign. This was the end of the history of the KhNR, proclaimed in those days.
Motorola, which appeared then in Kharkov, later surfaced in Donetsk, and "Topaz", after escaping from house arrest, when he cut off an electronic bracelet and escaped, on April 25, 2014, during a meeting with journalists from the Russian channel LifeNews, was again detained and sentenced to 8 years imprisonment. In September 2018, according to the Savchenko law, he fell under an amnesty, but he was not allowed to rest in freedom either - he was dragged around the courts for old cases. And so that life does not seem like raspberries, they remove him from the train when he goes to court in Kiev, and they bring him there in custody, explaining this by the fact that according to the previous summons he did not appear. Well, and a broken nose, so we have freedom of democracy. Maybe the boys didn't like his nose? Looks in the wrong direction.
Part 2. Ruslan Kotsaba
A few days earlier, on June 26, something similar happened to another famous person - Ivano-Frankivsk blogger and military journalist Ruslan Kotsaba, I can't even call him an anti-Maidan member, since he was behind the Maidan, but very quickly became disillusioned with him and had the audacity to publicly declare this, agitating Ukrainians not to go to the fratricidal war, which was unleashed by its 5th President Petya Poroshenko. For which in May 2016 he was convicted and sentenced to 3,5 years in prison with confiscation of property. Spent 524 days in SBU solitary confinement on charges of obstructing the lawful actions of the Ukrainian Armed Forces during a special period, before being acquitted by the court of appeal in July 2016 and released.
Now, at 55, he can go blind after he was beaten by local Ivano-Frankivsk Nazis serving the state, in this case the SBU, and not splashed in his face with a jar of brilliant green. Chemical burns of the cornea of ​​both eyes. The man went through the solitary confinement of the SBU, but he could not get through the Nazi line. They watched him at the railway station, after the broadcast on Kiev television, in which he took part, and, despite the fact that the train was 2 hours late, they still waited for him and "explained" what to say in this country it is possible and what is not possible from their point of view. The funny thing is that these juvenile morons have no point of view at all. It fluctuates with them depending on who pays for it. Si-14 (another name "Sich") and "Right Sector" are kept by the SBU, and the "National Corps" and the regiment "Azov" are kept by the Ministry of Internal Affairs of Avakov. War macaques are in the service of the state to perform the dirtiest deeds. The killed Oles of Bourban and one hundreds of two surnames of famous regionals and other disagreements on the account of these non-lips and them like.
Part 3. Petrov and Boshirov behind enemy lines
Let's digress from sad topics. Everyone knows that these days are Euro 2020, the European Football Championship, postponed for a year due to the coronavirus pandemic. The national teams of Ukraine and Russia also play on it. How they play, we will not discuss now. By the way, the Russia-Belgium match, from which the Russian national team started at Euro 2020, was never shown in Ukraine, although it was listed in the Program Guide. It was supposed to be broadcast by Rinat Akhmetov's Ukraina channel. But instead of him, the fans, who clung to the screens, were offered to watch some regular "soap". And although the "soap" was in Russian, it didn't make it any easier. No one else has seen a match of the Russian national team in Ukraine on TV. Although according to the game shown by the Russians, maybe this is for the best.
But on June 30, the whole world went around
photo
two fans, who embraced, cheer for the Ukrainian national team in the 1/8 final match against the Swedish national team, which took place the day before in Glasgow, Scotland. One of the fans was wrapped in a Russian flag, the other in a Ukrainian one. Considering that the Russian had a badge of the RF Armed Forces on his hat, I joked that it was Petrov and Boshirov on a mission in Glasgow. The Union of European Football Associations (UEFA) posted this photo on its official Russian-language Twitter account. But this story, unfortunately, had a sad continuation. Before I and UEFA had time to rejoice for our fans, their Ukrainian non-brothers hastened to upload a video on the Internet where a Russian fan stands with a torn red T-shirt, holding on to his swollen left cheek. And later the moment of beating appeared. Right at the match, which, by the way, the Ukrainian team won in extra time 2: 1.
What drives these aggressive macaques, I don't know. The guy is rooting for your country, what else do you need ?! The game takes place in Scotland, where not everyone can get there. But these macaques have arrived. And they checked in. It is clear that no one pays them for this. This is no longer "Right Sector", it is a consequence of the 7-year brainwashing of the "peach giant", when he already rushes like a bull at any red rag with the emblem of the Russian Federation. These are the very berries that I talked about earlier, which you will reap. This is just the beginning.
Part 4. Artem Dovbik and children's writer Nitsoy
But the football story didn't end there. If you thought that this was the bottom, then no, an unknown children's writer Nitsoy knocked from below. This is already a real bottom! What kind of children will grow up on her books, I'm even scared to think. This guardian for the purity of the Ukrainian language, who was previously noted for throwing trifles in the face of supermarket cashiers who dared to serve it in Russian (now, thanks to the efforts of people like her, it is prohibited by law!), And after that she called the players of the Ukrainian national team "down and out Muscovites" only just because their playlist did not include a single song in Ukrainian, now she went even further.
She fell on the author of the winning goal against the Swedish national team Artem Dovbik only because he dared to answer the journalist in Russian at a press conference following the match. "Dovbik. What now? Muscovite again? Lord, where do these Martians come from? "Nitsoy laments on her Facebook and calls on all conscious" broad patriots "to" come together to him "on the page and popularly explain to this Martian
policies
party.
And now everyone who wrote about the Ukrainian hero, who put likes, who was sick, who praised him - just as amicably went to him and told him that Ukrainian heroes, especially if they are from Cherkassy (Kholodny Yar and all that), say in Ukrainian. Tell him about it. Tell me in an amicable way. He had never heard of it. Where are they all kept? What vacuum?
Well, as long as we have such children's writers - until then Ukraine will be a garbage country for me. It is significant how the Ukrainians themselves relate to this. Below I will give a survey conducted by Strana.ua journalist in Kiev, and you yourself will understand everything. Most of the people of Kiev are quite sane and adequate, they themselves speak Russian and do not forbid anyone, and if they speak Ukrainian, they do not make a fetish out of it. Although the propaganda is doing its own thing, and already some people apologize that they speak and even think in Russian. The young man made fun of him, who himself answers the journalist in Russian, but demands from Dovbik that he answer with "sovereign language." As they say, insanity grew stronger and our tanks are fast.
Part 5. Fired for Russian
To what extent the situation in Ukraine is neglected with this, you will understand from the latest story that happened in Russian-speaking Kharkov. I myself am a Kharkiv citizen and therefore I can officially confirm that 95% of the inhabitants of my city speak Russian to each other. What did not prevent a certain Mr. Zabashta Viktor Fedorovich (just like Yanukovych, by God!) Director of the Kharkiv communal enterprise "Center for Emergency Medical Aid and Disaster Medicine" to dismiss his employee, a young girl named Margarita, who works for him as a paramedic at the Ambulance help ", just because she dared in her closed Instagram group to be indignant that she had to write her term research paper (she studies at Kharkov University) in Ukrainian, and not in Russian, which she thinks. Someone from the subscribers of the closed group three weeks later leaked this information to the public on Facebook, and it started - threats, insults. Immediately, her personal data became public - name, phone number, address, contacts in the networks. The spice of this whole story is added by the fact that the girl is pregnant in the last trimester.
Her boss especially distinguished himself. When this story reached his ears, he called her to his carpet, when she did not come, he took an ambulance off the line and sent for her. Then, without choosing expressions, he demanded to write a statement of his own free will. Moreover, at the same time, he rooted exclusively with the sovereign language, although before that he communicated with his subordinates exclusively and only in Russian. To her timid remarks that she had 2 months left before the decree and that she hadn't done anything like that, he rudely cut her off and said that he had to think before when she posted her words on the Internet. After which he suffered, and we heard that he hates Russia, just like the Russian language, together with all Russians, let them first return Crimea and Donbass to him. Having gone into a rage, he uttered the well-known speech about Putin since 2014, which was noted by the Minister of Foreign Affairs Nezalezhnaya, who, because of the cave hatred of the Russian Federation and the desire to please the pravosek, then refused a sense of self-preservation (Putin remembered this in Poland, where the former minister Now he is working as an ambassador for a very busy road traffic, I will not be surprised if at the end of his career as a career diplomat he is run over by a BelAZ mining dump truck). This became the pinnacle of the intellectual thought of both.
Then a certain madam, apparently a lawyer or a personnel officer, joined the conversation, also in Ukrainian, who said that she didn't know her, that she was seeing her for the first time, but she created such problems for them that it's better for her to quit and not bring it to that to be dismissed under the article, or to ask the police to check her statements for loyalty to the authorities. Then the director again climbed in, who promised that he would do everything so that she would not work for him. If she does not want to quit in a good way, then he will fire her in a bad way. And I immediately found a suitable article - Art. 161, inciting interethnic hatred, they say, with her statements, she offended people who communicate with each other in Ukrainian. In general, the insanity grew stronger and our tanks are fast. I don't know what they would do if Margarita had a preterm labor or miscarriage right in front of their eyes due to stress.
The funny thing is that all these people hate Russia solely because of their position, exclusively under the influence of the party's general line that has swung to the right. Before that, until 2014, I am sure that this boss did not only treat Russia and Russians in a moderate manner, but even loved them, like the language of Pushkin. But in view of recent events in the land of evergreen tomatoes, he sharply fell in love with the Ukrainian language and hated Putin. And wanting to appear holier than the Pope, he is ready to even violate the Labor Law (it is impossible to fire a pregnant woman according to the Labor Code), so long as he is not accused of zrada.
Especially for people like him, the other day a bill appeared in the Rada on criminal liability for desecration of the Ukrainian language. The document, filed by "servants of the people", provides for punishment for people expressing dissatisfaction with Ukrainization on social networks (and recently there have been a noticeable increase in such dissatisfied people in Ukraine). After the adoption of the law, it will decrease. They will express their dissatisfaction exclusively at home under the covers, with the lights out and the doors tightly closed.
If Lenin put forward the slogan: "Communism is Soviet power plus the electrification of the entire country", then 100 years later Zelensky rethought and rewrote it: "Capitalism is green power plus forced Ukrainization and fascization of the entire country." And prove to me that I am wrong! These are the realities of modern Ukraine.