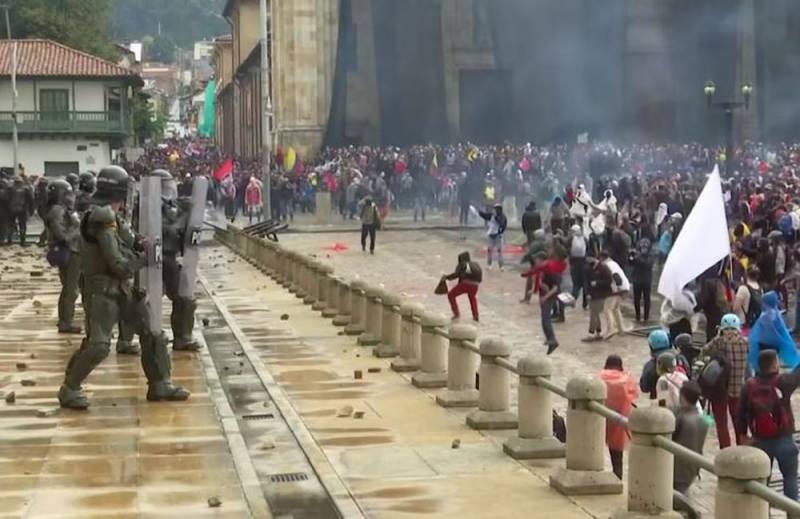 Some time ago, peaceful protests began in the 50 millionth Colombia. Demonstrations swept the entire Latin American country because of the disagreement of its inhabitants with the next "reform for their sake", which implies an increase in taxes. In the best "democratic" traditions, the authorities ordered the police to disperse the actions of those who disagree. As a result, riots broke out in the country.
On April 30, 2021, the authorities agreed to slightly change the text of the document, but by this time the country had already been covered by a wave of robberies, looting, arson, murder, mutilation, vandalism and clashes with the police. Demonstrations escalated into storming of banks, shops and offices.
On May 2, Colombian President Ivan Duque ordered the deployment of troops to the country's capital and other raging cities and an end to public disorder. His video message was posted on the official Twitter account of the head of state.
In his speech, Duque emphasized that the Colombian military is "well trained to" work "in urban environments", therefore "will provide assistance to the police." This is probably how he tried to simultaneously intimidate the protesters and justify the direction of the army against the citizens. A lot of video evidence has appeared on the web showing what is happening.
Note that there is still no mention of the "hand of the Kremlin" in the Colombian events in the local, international Hispanic and English-language media. We are surprised to see that the official Bogotá has not yet accused Moscow of "the invasion of hordes of Russian agents" from neighboring Venezuela. This is a clear flaw of the US intelligence services.
Less than two weeks ago from the sky of Colombia "loudly chased" awkward
flown
there the aircraft Il-96-400VPU FSB RF. Well, what is not a reason? Perhaps Russophobes will return to this topic later, since they are really busy with the accumulated indignation of the Colombians that has spilled out, and they clearly do not want to transform Colombia into an analogue of Venezuela, ruled by socialists for more than 20 years.