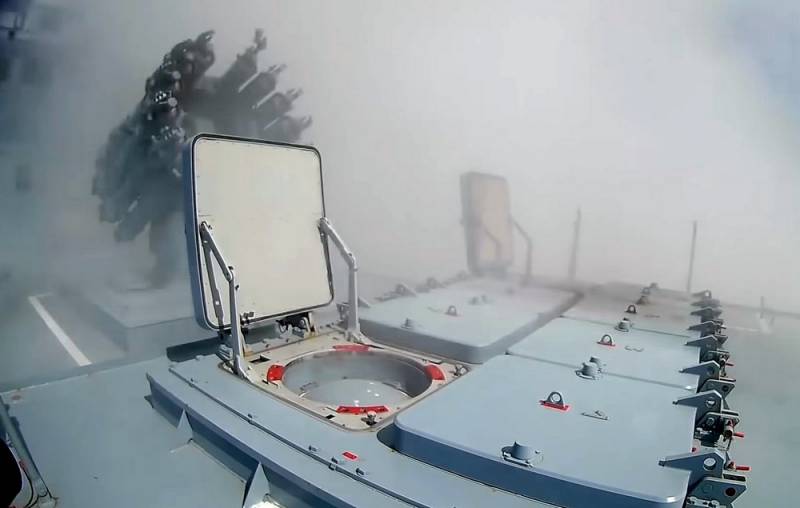 A video of the unsuccessful launch of a Russian cruise missile of the Kalibra family with
modernized
frigate of the 1st rank with the URO "Marshal Shaposhnikov" of the Pacific Fleet of the Russian Navy. On April 27, 2021, the ship became part of the Pacific Fleet's Standing Forces. Prior to that, he was at the factory sea trials and carried out rocket firing (launches) in the Sea of ​​Japan.
The footage shows how, after launch, the rocket begins to spin in the air and, having completed several revolutions, falls into the water near the ship. Then a footprint is shown on the water caused by the rocket engine running. Based on the off-screen sounds, the video posted was filmed by the Russian military themselves. However, it is not known when exactly this video was made, because the launches of "Caliber" from "Marshal Shaposhnikov" were reported several times since the beginning of this year.
The Russian Ministry of Defense last informed about the launch of the Caliber rocket from the Marshal Shaposhnikov on April 6. The department clarified then that the ammunition "arrived at the Surkum training ground" and successfully hit the "coastal target position" at the estimated time, and the firing range exceeded 1 thousand km. It was emphasized that the safety of firing was ensured by the ships and vessels of the Pacific Fleet, as well as naval aviation (aircraft and helicopters), which blocked dangerous areas of the water area and airspace.
Note that the presence of unsuccessful launches, caused by defective ammunition or other reasons, is not something tragic. Especially if we are talking about a ship on which repairs have recently been completed and equipped with new equipment. We have no doubts that the Russian naval forces fired normally right after the failed attempt.
The large anti-submarine ship Marshal Shaposhnikov entered the USSR Pacific Fleet in 1986. In 2016, he was sent for improvement to JSC Dalzavod Shipbuilding Center (Vladivostok). In February 2018, there was a fire on it in the forward engine room. Sea trials began in July 2020.