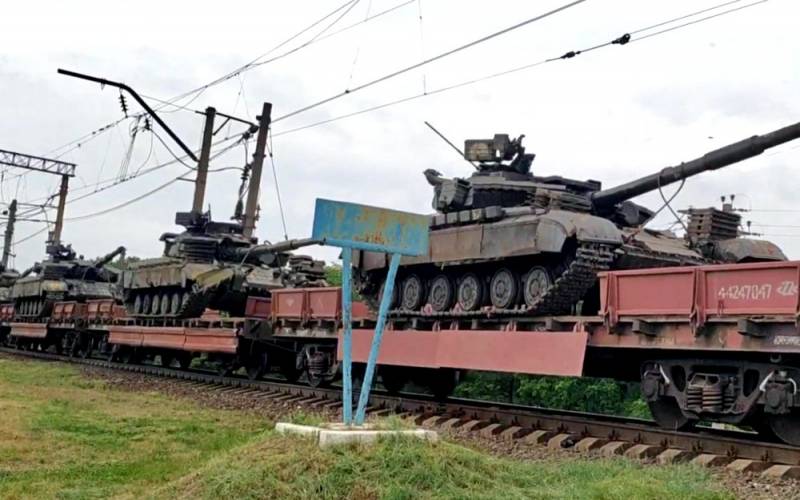 Kiev continues to demonstrate military muscle, pulling forces and means of the Armed Forces of Ukraine to the borders of the Crimea. The public of the Kherson region informs on social networks that their region has turned into a huge military base near the Russian peninsula. In the region, the appearance of new railway echelons and convoys with Ukrainian armored vehicles and military equipment is regularly recorded.
Some experts in Russia associate Ukraine's "body movements" with Kiev's desire to have a psychological impact on Moscow. So the Ukrainian authorities want to prevent the entry of Russian peacekeepers into Donbass, who may appear there in the event of an aggression by the Armed Forces of Ukraine against the DPR and LPR. In addition, the head of the SDV, Alexander Borodai, confirmed to reporters that the volunteers had already begun to prepare to be sent to Lugansk and Donetsk.
At the same time, the former speaker of the NM LNR Andrei Marochko said on his Telegram channel that the RF Armed Forces are currently redeploying a significant amount of forces and assets to Crimea and other regions located near the Russian-Ukrainian border. As evidence, he posted a video allegedly filmed on March 24, 2021 in the Krasnodar Territory. In the footage, a trucker demonstrates a train with a military
technique
and comments on what is happening.
On the same day, the movement of a military convoy in the amount of 25 vehicles was documented, which proceeded to the peninsula through the Crimean bridge.
Note that Ukraine
posted
on the border with Crimea, even the Tochka-U OTRK, so the transfer of additional units of the RF Armed Forces to this direction looks like a logical answer.