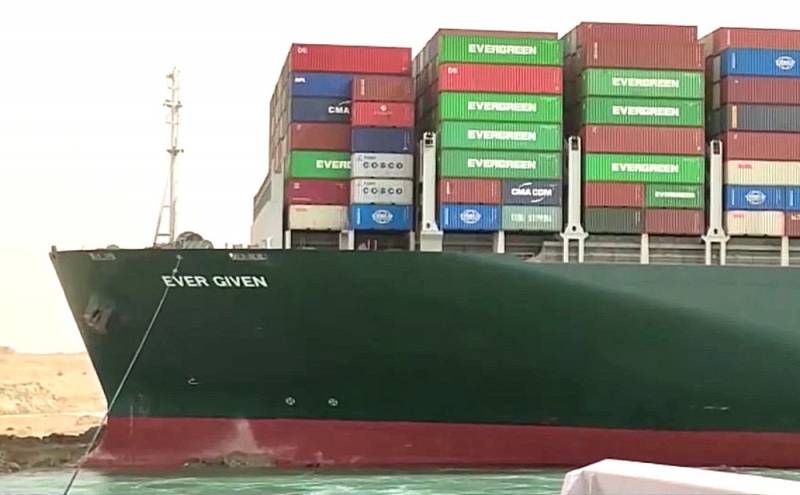 March 23, 2021 one of the world's largest container ships Ever Given (by Evergreen Line)
blocked
Suez Canal, running aground during its passage. Over the past few days, the ship could not be removed from the aground and navigation unblocked. On March 27, a group of dredging specialists from one of the US Navy bases in the Middle East is to arrive at the scene to help correct the situation, the American television channel CNN reports, citing a source in the Pentagon.
The interlocutor of CNN informed that the USA offered aid to Egypt through its embassy in Cairo and the authorities of the Arab country accepted the offer from Washington. The Suez Canal Authority has already expressed gratitude for this.
Consultations are underway with our Egyptian partners on how we can most effectively help
- he specified.
In turn, one of the world's largest insurers, Allianz from Germany, calculated the losses of the world
economics
from blocking Suez. The company's analysts said that due to the incident, the delivery time of goods to Europe has become longer than it was observed during the peak of the COVID-19 pandemic in 2020. At the same time, losses in international trade due to what happened in Suez will amount to $ 6-10 billion weekly.
We remind you that a 400-meter giant ship, sailing under the Panamanian flag from China to the Netherlands, because of a strong gust of wind ran aground in the narrowest part of the canal six miles from the entrance / exit from the Red Sea. The ship buried its bow in the ground and turned it across the waterway, as a result of which it completely blocked the passage.
It was originally planned that it would be possible to remove the vessel from the shallows in a couple of days. For this, a world-renowned company, Royal Boskalis Westminster NV (Netherlands), was involved, specializing in dredging and heavy lifting, providing services for the construction and maintenance of marine infrastructure. However, the head of the company Peter Berdowski said that this could take several weeks.