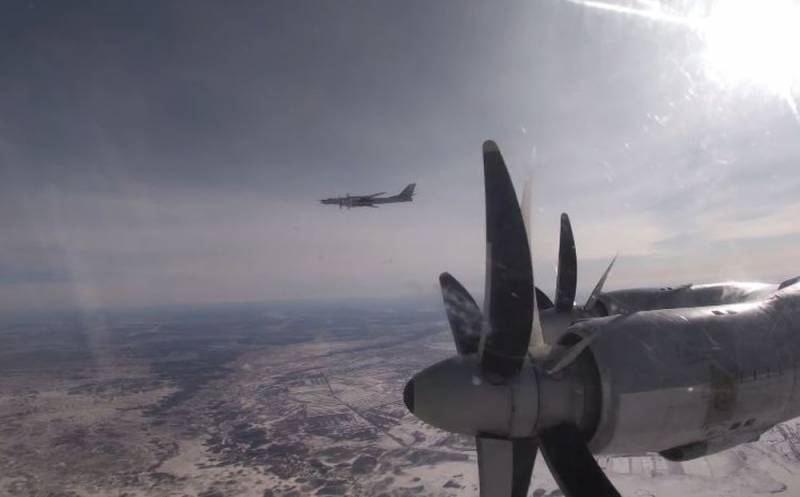 Russian turboprop strategic missile-carrying bombers Tu-95MS (NATO codification: Bear - "Bear") conduct training flights near the borders of China in the Amur Region. A video of tactical flight maneuvers was published by the Russian Ministry of Defense on February 7, 2021 on the department's YouTube channel.
It is specified that the crews of the "strategists" have completed all the tasks assigned to them, including patrolling a given area in difficult meteorological conditions. The footage shows takeoff, landing and the flight of the Tu-95MS itself.
For decades, these reliable aircraft have been on duty in the sky, protecting the peace of the country's inhabitants. Their mere presence is sometimes enough to discourage the desire to fight. The Tu-95 only once carried special ammunition for patrolling - during the Cuban missile crisis in the early 60s of the twentieth century, when the world was on the brink of nuclear war. All other flights were and are carried out with conventional (non-nuclear) ammunition. Since the fall of 2015, Tu-95s have been participating in the Russian military operation in Syria, striking at the fortified facilities of the jihadists.
Amur bears do not sleep
- commented one of the subscribers.
Note that on December 22, 2020, the strategic aircraft of the PRC and the Russian Federation
held
joint air patrol. The mission was attended by two Tu-95MS Aerospace Forces and four "Hun-6K" (Xian H-6K) PLA Air Force. The patrols were carried out over the waters of the Japan and East China Seas, as well as the western Pacific Ocean.