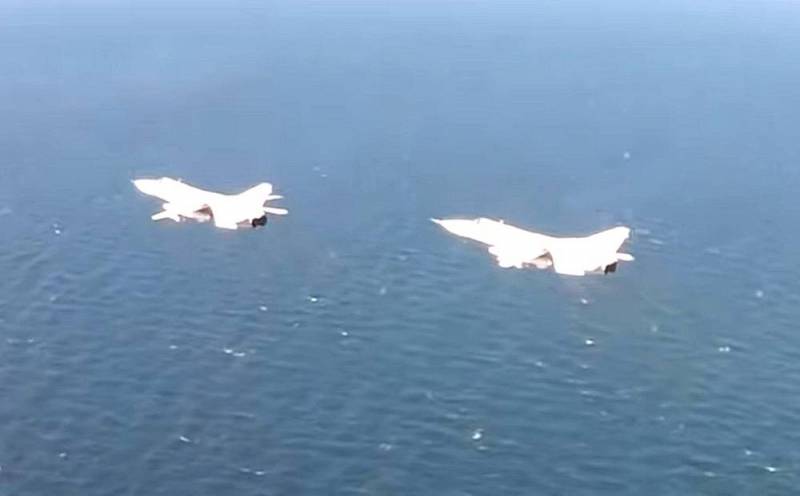 The US Navy's Sixth Operational Fleet reported on a Twitter account of the incident in the Black Sea, the video of which quickly spread across the web. The Russian front-line bomber Su-24M flew very low over the Arleigh Burke-class destroyer USS Donald Cook (DDG-75) in international (neutral) waters, which entered the specified water area on January 23, 2021, writes the American Internet edition Task and Purpose.
On January 31, she was joined by the sister destroyer USS Porter (DDG-78) and the tanker USNS Laramie (T-AO-203, Laramie) of the Henry J. Kaiser class. Over the course of several weeks, this maritime group will carry out various tasks to ensure stability in the region.
The USS Donald Cook crew twice tried to contact the Russian pilot, but there was only silence on the radio. The US European Command clarified that as a result of the incident, which lasted about 10 minutes, the Su-24 flew up to the destroyer at a distance of 100 yards (about 91,5 m) and was above the water surface at an altitude of 200 feet (almost 61 m) ...
At the same time, the Russian media
inform
the public about the surveillance of American ships, which allegedly create instability in the region. We remind you that there have already been incidents at sea between the United States and Russia.
The latter case seems to be "little flowers" compared to the more violent incident that happened with the USS Donald Cook and two Su-24s in the Baltic in April 2016. Then the Russians were more aggressive, imitating an attack on an American ship. They made several low-altitude flights over the destroyer.
In addition, in June 2019, there was a dangerous rapprochement between the American missile cruiser USS Chancellorsville and the Russian anti-submarine ship Admiral Vinogradov in the Philippine Sea. In November 2020, a "spat" occurred between the ships of Russia and the United States in the Sea of ​​Japan.