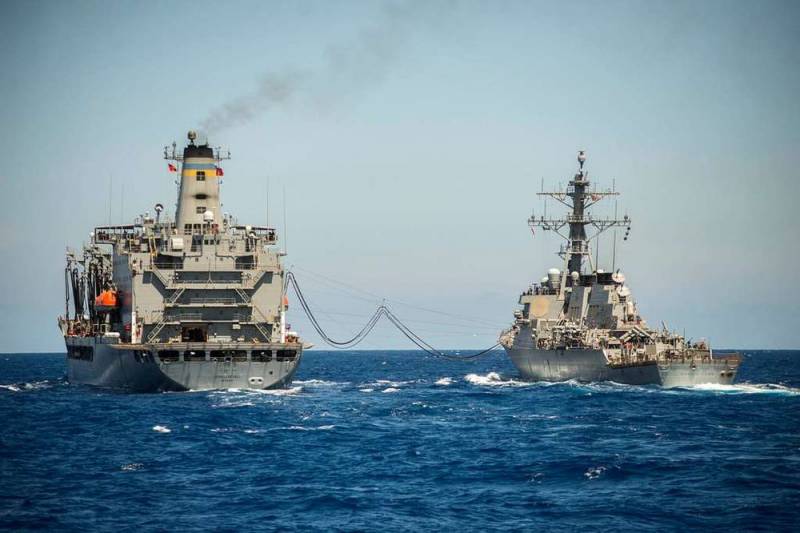 The United States has increased the presence of its naval forces in the Black Sea, joining a group of Romanian and Bulgarian ships to conduct exercises. This is confirmation of Joe Biden's "toughness" towards Moscow and Russia's warning from NATO about Ukraine and Georgia, writes the British newspaper The Times.
On January 23, 2021, the USS Donald Cook (DDG-75) USS Donald Cook entered the Black Sea. On January 28, he was joined by a colleague of the same type, the destroyer URO USS Porter (DDG-78). A pair of destroyers is escorted by the USNS Laramie (T-AO-203, Laramie) tanker vessel of the Henry J. Kaiser class. The supplier has been in service since 1996 and can simultaneously refuel two ships.
The US Navy compound has become the largest contingent in the Black Sea since 2017. This prompted Russia to deploy the Bastion coastal missile systems in Crimea and
start of exercise
Aerospace Forces and the Black Sea Fleet of the Russian Navy.
The command of the US Navy's Sixth Operational Fleet has announced that the ultimate goal of the mission is to improve the joint air defense system with allies in order to better protect ships from attacks.
In turn, the representative of the Alliance clarified that the bloc decided to strengthen its presence in response to the buildup of Russia's military power in the region. He noted that in 2014, Moscow "annexed" Crimea, turning it into a gigantic military base and the militarization of the peninsula continues. In addition, in 2008, Moscow "annexed" two regions of Georgia (Abkhazia and South Ossetia). In November 2018, Russia hijacked three Ukrainian warships and their crews while trying to pass through the Kerch Strait.
We remind you that three of the six countries with access to the Black Sea: Turkey, Romania and Bulgaria are NATO members, while Ukraine and Georgia are candidates for joining the Alliance, regularly take part in joint maneuvers. On January 26, Biden spoke by telephone with Russian leader Vladimir Putin, expressing concern about Russia's activities.
At the same time, Turkey is the biggest problem of the Alliance in the region. Ankara has seriously approached Moscow by purchasing the S-400 air defense system and negotiating with it on various international issues.
policy
, ignoring the views of NATO allies, summed up the media from the UK.