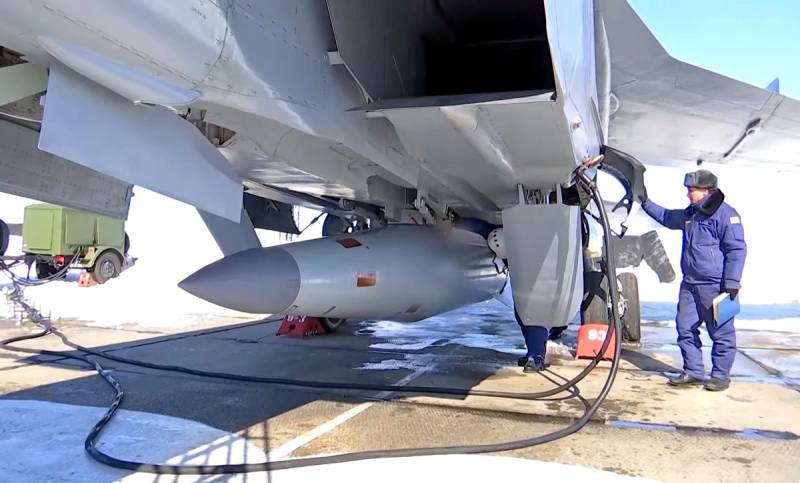 The naval aviation of the Russian Navy will adopt the Kh-47M2 "Dagger" hypersonic aircraft missile systems. They will be deployed in Kamchatka and the Kola Peninsula, the TV channel reports.
"News"
.
The carriers of these high-precision aeroballistic missiles, air-to-surface class, capable of flying at speeds of Mach 10-12 (up to 14688 km / h or 4080 m / s), at a range of up to 2 thousand km, will be modernized high-altitude interceptors MiG-31K. The missiles will be delivered to the 98th mixed aviation regiment of the Northern Fleet (near Monchegorsk) and the 317th mixed aviation regiment of the Pacific Fleet (co-based airport "Elizovo" named after Vitus Bering).
Note that in November 2019, the above complex was successfully tested in the Arctic. "Daggers" are able to put in place any enemy who decided to attack Russia. Against these missiles, the American missile defense system Aegis is useless, which is in service not only with the United States, but also with other countries, for example, Japan.
If we talk about the Russian Far East, then the deployment of the "Daggers" in Kamchatka will not only be additional protection from aggressive Washington. They will become a sobering element for Tokyo too. Japanese nationalists and militarists demand that Moscow give up part of the Kuril Islands. They do not hide the fact that as soon as Russia weakens, they will try to "return the northern territories."
With Yelizovo, even hypersonic Daggers will have a hard time reaching Elmendorf-Richardson Air Force Base in Anchorage, Alaska, where the F-22 Raptor is based. For this, the MiG-31 will require air refueling. At the same time, almost half of Japan and the adjacent water area is under a possible blow from the "Daggers". Therefore, the direction of the MiG-31K to Kamchatka against Japan is more likely.
We remind you that in December 2020, Chukotka was permanently
transferred
link MiG-31BM. At any time they can be promptly replaced with MiG-31K or receive replenishment in the form of these fighters. From here it is much closer to Anchorage.