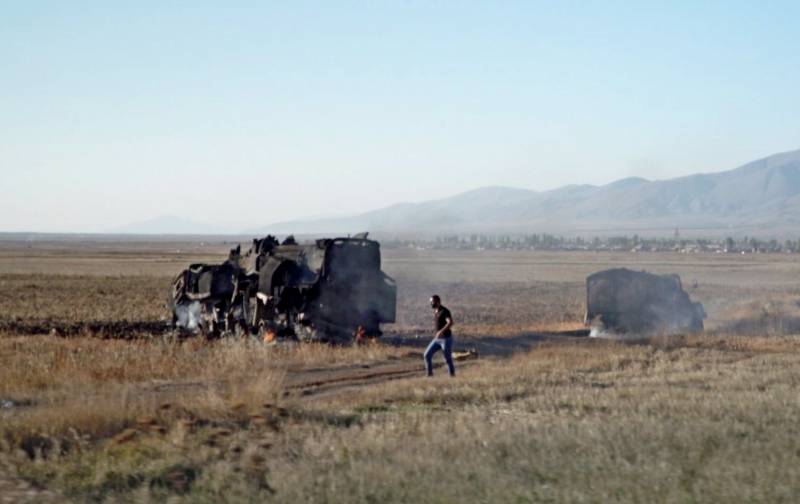 Social networks have circled images of the Elbrus OTRK destroyed by the Azerbaijani army, as well as the UKS 400 V-131 compressor station of the Armenian armed forces. Previously it was
demonstrated
video of the launch of the R-17 rocket OTRK 9K72 "Elbrus" - the most powerful weapon in the arsenal of the Armenian army.
The maximum range of the missile is 300 km, the throw weight is 990 kg, the accuracy is about 450 m. Based on the information for the past year, Yerevan had eight such missile launchers in service.
According to the Deputy Commander, Chief of Staff of the Azerbaijani Air Force Major General Ikram Aliyev, if the Armenian missile systems had not been destroyed last night, their missiles could have hit Baku - this could have happened if the OTRK were deployed in the territory of Nagorno-Karabakh.
But, according to our data, in service with the combined-arms units in Nagorno-Karabakh this
equipment
no. She was part of the 71st missile regiment of Armenia
- noted the general.
Aliyev specified that on the night of Wednesday, October 14, the Azerbaijani armed forces attacked two Tochka-U missile launchers with an accurate missile strike, and in the morning - the Elbrus operational-tactical missile system.
It turns out that the Azerbaijanis destroyed military facilities located in Armenia, that is, on the territory of the CSTO country. Baku and Yerevan have been exchanging blows with each other for a long time, more and more heating up the already difficult situation in the region.