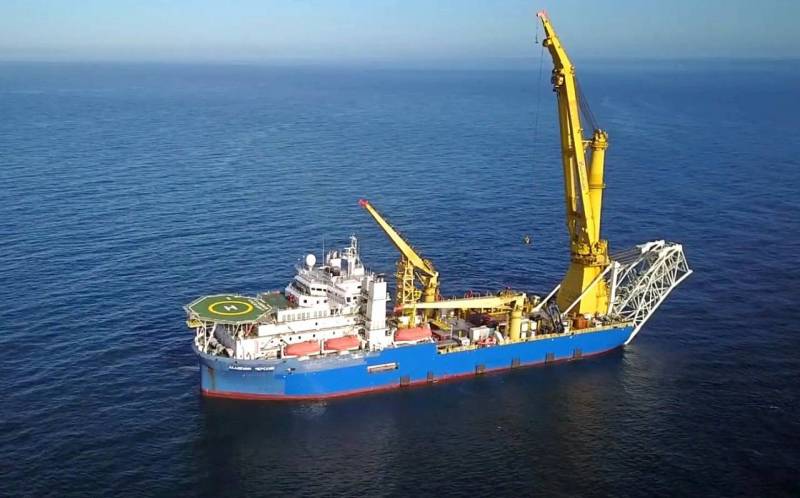 At present, the Akademik Chersky crane-and-assembly pipe-laying vessel, capable of completing the Nord Stream-2 gas pipeline, is located near the Russian coast. On October 7, 2020, KMTUS was supposed to return to Russia and enter the port of Kaliningrad.
However, the ship did not enter the Russian port. According to the data of marine navigation and monitoring resources, KMTUS is located opposite the Curonian Spit, which is equally divided by Russia and Lithuania. In this case, the ship's AIS indicates the port of Mukran.
Recently, Akademik Chersky was located near the German port of Mukran, located on the island of Rügen and which is the logistics center of the gas transportation project. There is a warehouse near the port where pipes for the completion of the construction of the Nord Stream 2 are stored. There KMTUS passed sea trials and appeared
information
that supply vessels began to pull up to complete the construction of the pipeline.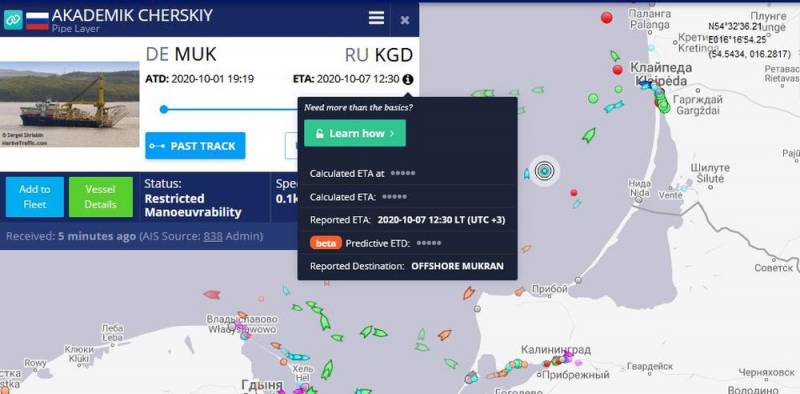 In turn, the pipe-laying barge Fortuna at the end of September moved from the port of Rostock to Wismar (both are located in Germany and are part of the federal state of Mecklenburg-Vorpommern). Back in early August, the Russian company Mezhregiontruboprovodstroy (MRTS) announced that it would not provide the TUB for the completion of Nord Stream 2.
Akademik Chersky and Fortuna left the construction site immediately after the International Group of P&I Clubs (IG P&I) refused to provide insurance coverage to ships that may participate in the completion of the gas pipeline. This decision was made by a non-governmental association uniting the 13 largest private ship insurance clubs in the world on September 21, 2020.
In light of the direct sanctions threat to insurers posed by the US CAATSA (Countering US Opponents Through Sanctions) and PEESA (European Energy Security) laws, the club will not provide insurance coverage for activities related to the Nord Stream projects 2 or Turk Stream
Says the circular on behalf of all IG P&I clubs.
It should be noted that IG P&I provides insurance for almost 90% of the world's marine tonnage. By her actions, she made it difficult to complete the construction of Nord Stream 2.