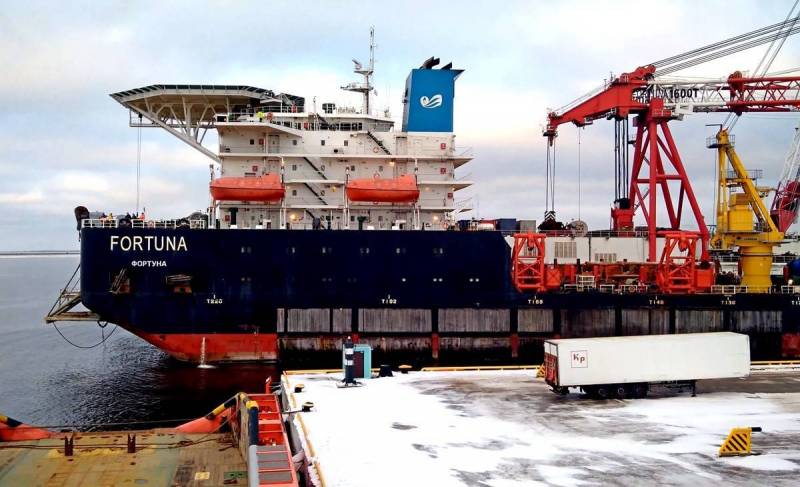 According to the data of marine navigation and monitoring resources, an entire fleet of various vessels is sent to complete the construction of the Nord Stream-2 gas pipeline.
It should be noted that the main participant in construction work is the Akademik Chersky crane-and-assembly pipe-laying vessel (KMTUS). It is currently undergoing sea trials five nautical miles from the German port of Mukran, located on the island of Rügen in the Baltic.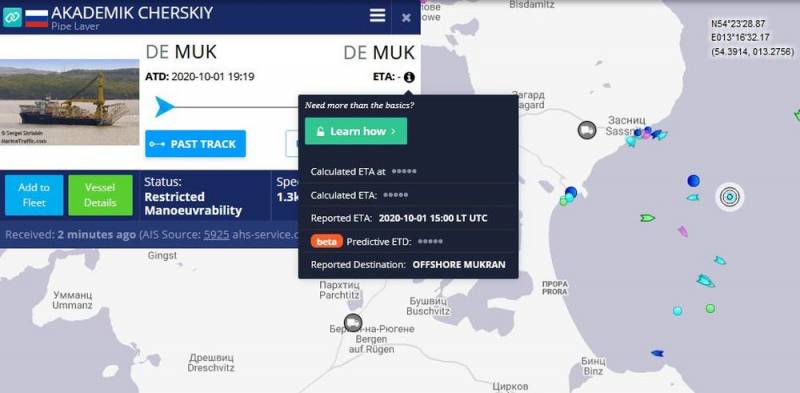 The specified port is the logistics base of the Nord Stream-2 gas transmission project, there is a warehouse where pipes are stored for completing the gas pipeline. At the same time, the pipe-laying barge (TUB) "Fortuna", which is the second most important vessel in the completion of the gas pipeline, is located near the German port of Wismar, also located in the Baltic. Both ports are part of the federal state of Mecklenburg-Vorpommern.
On October 3, 2020, Marine Rescue Service suppliers Finval and Umka, as well as the ship Errie, owned by Singapore's Intan OSV Ptr Ltd., arrived at the port of Mukran. Some of these vessels have already participated in the construction of Nord Stream 2. Other ships are likely to be brought up.
We remind you that after the information about the poisoning of the Russian opposition leader Alexei Navalny appeared, the Russian courts
started to leave
the water area adjacent to the construction site of the mentioned gas pipeline. But on October 1, 2020, the Danish Energy Agency (DEA) made the final decision and
agreed
for further operation of Nord Stream 2 on the country's continental shelf.
In addition, new American
economic
the sanctions, which were supposed to begin to apply on October 1, 2020, along with the start of the new fiscal year in the United States, were never implemented. Back in the summer, the House of Representatives unanimously approved an amendment to the bill on the US defense budget for 2021, which provided for the specified sanctions. However, American lawmakers were so carried away by the election rhetoric that they decided at the same time to rename the US military bases, named after the famous Confederate Southerners. Thereafter, debate on the submitted bill was suspended until early November to avoid unnecessary
political
speculation.