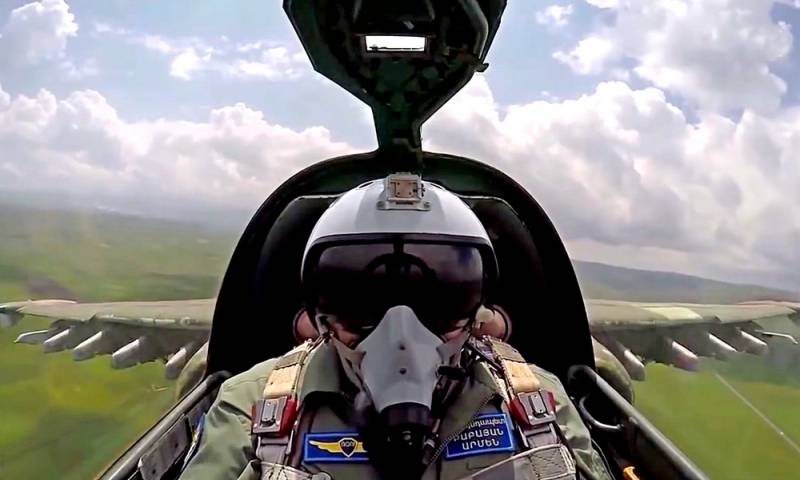 An F-16 fighter of the Turkish Air Force shot down a Su-25 attack aircraft in the skies over Armenia. Official Yerevan reports. The stormtrooper pilot was killed.
It is specified that the Turkish plane was involved in the cover of drones and the Azerbaijani Air Force, which are involved in the operation in Nagorno-Karabakh.
F-16 took off from the Azerbaijani airfield Ganja and covered the actions of Azerbaijani aviation and drones that attacked the settlements of Vardenis, Mets Masrik and Sotk in Armenia itself
- reported the press service of the Ministry of Defense of Armenia.
We add on our own that if the incident
really
occurred in the skies over Armenia, then it is uncompromisingly an act of aggression by Turkey. This is an attack on a member country of the Collective Security Treaty Organization. In this situation, Russia must take prompt and most stringent measures to protect the sovereignty of Armenia. In the event of Moscow's silence, the Treaty itself will be in jeopardy - the members of the defense union will have natural questions.
Armenia must receive reliable cover for its airspace. Turkey needs to point out that violation of the sovereignty of a CSTO member state is unacceptable and will be toughly suppressed by all available means, without regard to possible consequences for bilateral relations.
Aggressive external
policy
Ankara has reached its climax. After the illegal invasion of Syria, after
attempts
Turkish military to shoot down our planes in the province of Idlib in March this year, Erdogan decided to open another front against Russia. We hope that the Kremlin will not leave this attack unanswered.