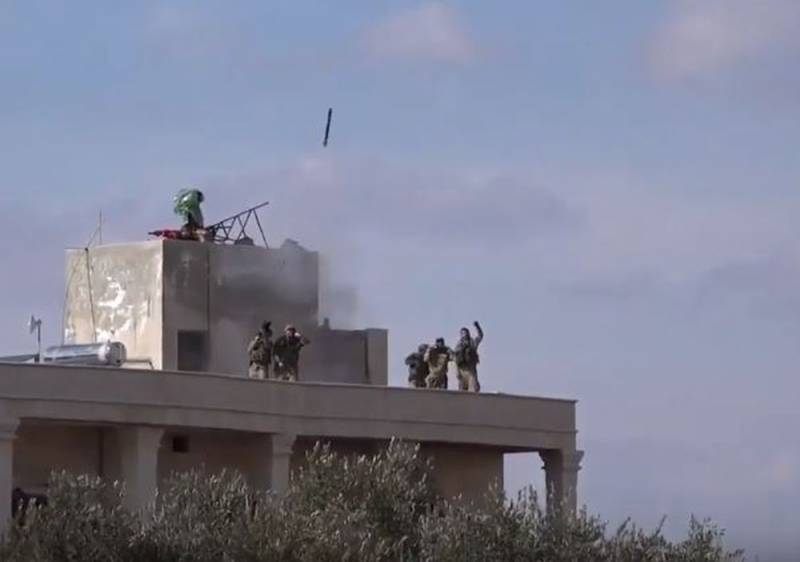 Recently
сообщалось
as militants entrenched in the Idlib "de-escalation" zone tried to shoot down the Su-24M from MANPADS. Then the Russian bomber with the variable sweep wing dodged, and the rocket self-destructed, failing to hit the target. And now it turned out that the "air defense" missile was not launched from the ground by the "barmalei", but by their "twin cities" - Turkish soldiers.
A video has already appeared on the web, showing the moment of the use of MANPADS by the Turkish military on the Russian Su-24M from the territory located near the Turkish "observation post" Kminas, located east of the city of Idlib in the Syrian province of the same name.
As already mentioned above, the crew of the Su-24M (pilot and navigator) managed to perform an anti-ballistic maneuver and shoot the LTC (infrared countermeasure). At the same time, the Su-24M was located at an altitude of ~ 5000 meters, providing air support to units of the Syrian Arab Army (SAA) near the village of Neyrab (20 km from the city of Idlib). At this time, the SAA reflected the counteroffensive of the militants, whose attack was supported by the Turks with all their might.
At the same time, both the Turkish military themselves and the national flag of Turkey (on a fallen tripod) and an armored personnel carrier on the ground are clearly visible on the video. According to commentators, it was this incident that led to the death of two Turkish troops and the wounding of five more. Allegedly, the Russian Aerospace Forces bombed themselves at the indicated "observation post". But there is no official confirmation of this.