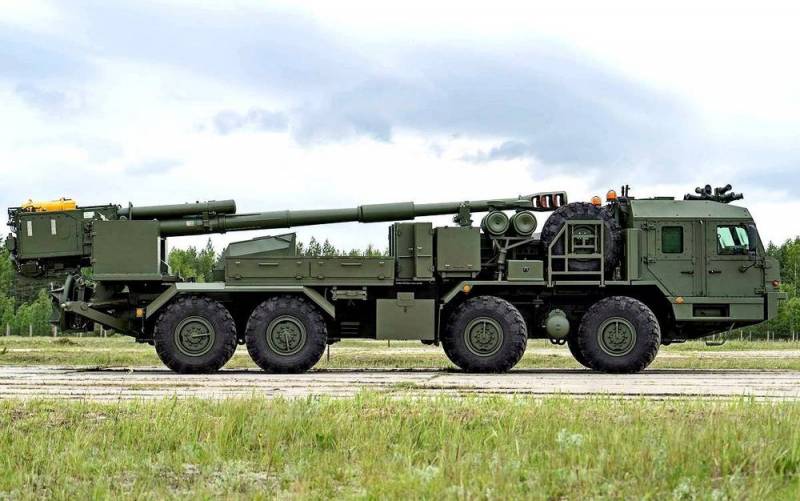 Russia pays increased attention to the development of new artillery systems of various calibers, accelerating their appearance, so this trend should be taken into account by neighboring countries, writes the Ukrainian information and consulting company Defense Express.
JSC TsNII Burevestnik, which is part of the Uralvagonzavod concern (Rostec State Corporation), is the main enterprise in Russia for the development of artillery weapons. Recently, the general director of this enterprise, Georgy Zakamennykh, told the media that a number of military samples were at the final stages of testing.
equipment
which will determine the appearance of the RF Armed Forces for the coming years and in the medium term.
According to him, the aforementioned samples created by the specialists of his enterprise include: 57-mm anti-aircraft artillery complex 2S38 "Derivation-Air Defense", 82-mm self-propelled mortar 2S41 "Drok", 120-mm self-propelled gun 2S40 "Phlox" on the chassis of armored vehicles " KamAZ "and" Ural ", 120-mm ACS" Magnolia "on the chassis of a double-link tracked conveyor DT-30MP" Vityaz ", 152-mm ACS 2S35" Coalition-SV "on a tracked chassis and a transport-loading vehicle for it, as well as 152 -mm self-propelled gun "Malva" with an open installation of an artillery unit based on the BAZ-6010-027 chassis.
Zakamennykh added that remote-controlled cannon and machine gun modules installed on various armored vehicles are also being tested. The BMP-3 with the remotely controlled combat module DUBM-57 was given as an example.
It should be noted that the 152-mm self-propelled gun 2S43 "Malva" is one of the newest Russian developments (ROC "Sketch"). This ACS is equipped with an improved version of the 2A88 cannon, which is supplied with the 2S35 "Coalition-SV". It is much lighter and more mobile than its crawler counterpart (no need to carry it on a tractor). Moreover, its ballistic characteristics should be no worse. And although its cross-country ability is still lower than a tracked self-propelled gun, low operating costs and a higher service life compensate for this disadvantage.
Ukrainian military experts believe that in the event of serial deliveries of these artillery samples to the troops, the combat potential of the Russian army will significantly increase.
Note that before this we
brought
more detailed performance characteristics of 152-mm self-propelled guns 2S43 "Malva".