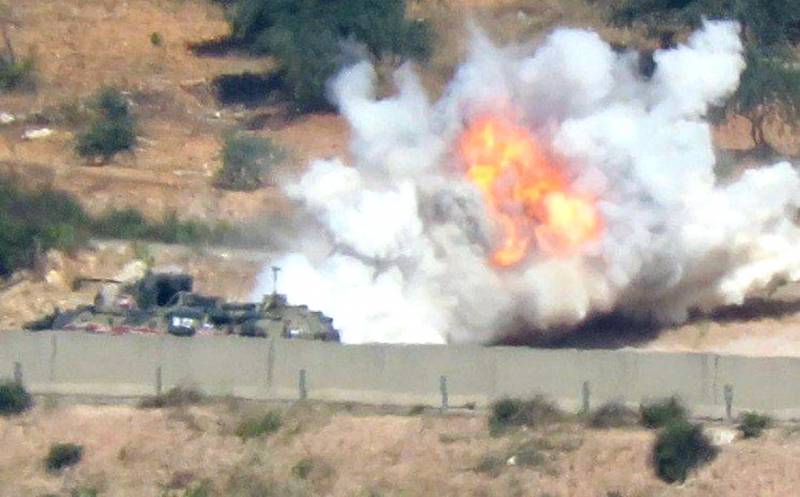 On Tuesday, June 16, in the province of Idlib in Syria, an armored personnel carrier of the Russian military police blew up when detonating an explosive device. No one was injured in the explosion, the vehicle received minor damage. Formerly "Reporter"
опубликовал
video of his evacuation using a Turkish tractor.
The incident was confirmed by Major General Igor Konashenkov, spokesman for the Russian Ministry of Defense. The moment of undermining the armored personnel carrier was in the photo.
According to Konashenkov, an explosive device was installed by a group of militants on the M4 highway, between the settlements of Urum al-Jawz and Erich. The explosion occurred during the patrolling of this area by the military of Russia and Turkey.
Russian military police have often been attacked since Putin and Erdogan agreed to patrol Syrian territory with soldiers from both countries. So, a similar incident took place on June 9, when an explosive device detonated along the route of a patrol of the military forces of the Russian Federation in the north of the republic. During the bombing, none of the soldiers died.
In December 2019, an explosion also occurred on the road along which the patrol of the military personnel of the Russian Federation followed. Three soldiers were injured. The incident happened one and a half kilometers from the Koran in the Kobani region. A month earlier, Molotov cocktails threw one of the columns of the Russian-Turkish patrol in northern Syria. Kurdish units claimed responsibility for this. Later, they apologized for the attack by posting the corresponding video on YouTube.