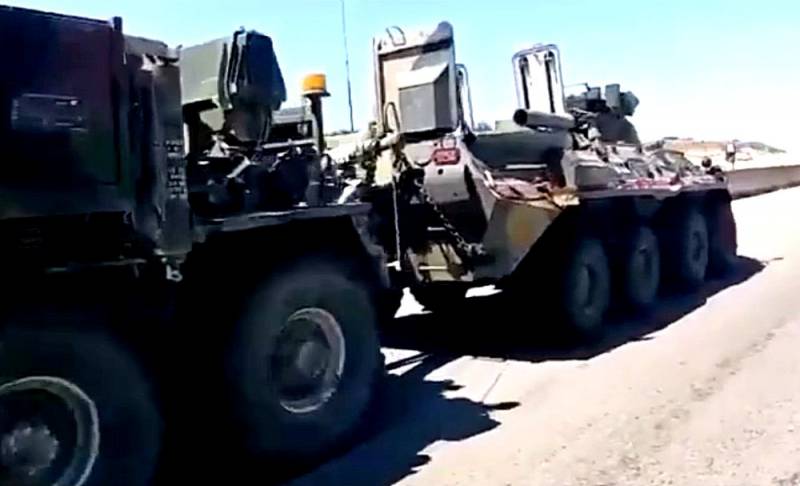 A video appeared on the web as a Turkish military tractor towed a Russian BTR-82A in the Idlib de-escalation zone in Syria. Actions took place on the M4 highway during joint patrols by Turkish and Russian military personnel.
According to militants, the Russian armored personnel carrier was damaged as a result of a collision with a makeshift explosive device. In this case, if you do not look closely, then apparently no damage is visible. Therefore, some users suggested that some kind of armored personnel carrier
technical
a malfunction, since even having damaged one of the wheels, he still has seven left. In addition, the BTR-82A can move with punched wheels.
However, if you look closely, you can see the rags of rubber hanging from the left rear wheel of the APC. Therefore, there is a high probability that the APC was indeed damaged by the IED. The dead or injured Russian troops are not reported.
Please note that this is not the first time that militants, violating the ceasefire, use IEDs against Russian armored vehicles in Syria, threatening the life and health of Russians performing a peacekeeping mission.
A week before, in the area of ​​the village of Kobani in northern Syria
blown up
on IEDs, an armored car GAZ-233014 Tiger-M from a contingent of the Russian military police. Then the armored car was seriously damaged, and one Russian military was injured.