The inclusion of Russian
economics
in global, in addition to some advantages, has a number of serious disadvantages. Russia and its financial and banking systems are vulnerable to external influences. As one of the methods of sanctioning impact on our country in the last few years, they have called the possibility of disconnecting Russian banks from the interbank system of SWIFT. According to Western experts, this could be an effective measure of influence on the Kremlin:
Disconnecting Russian banks and companies from SWIFT will definitely cut off Russian business from the rest of the world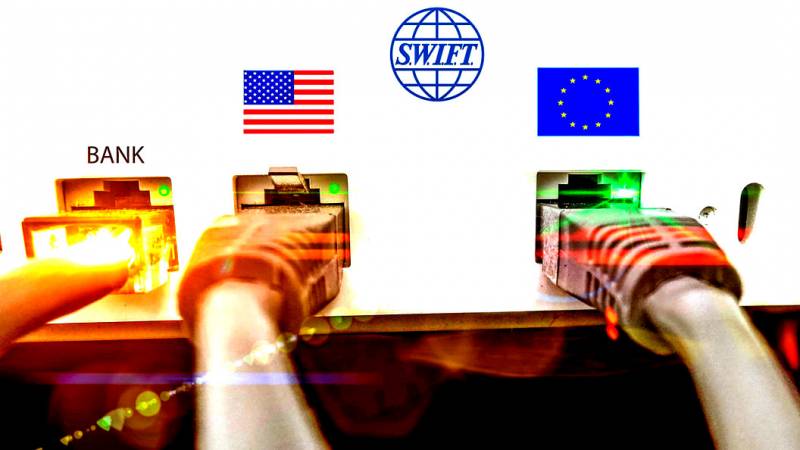 It is believed that at one time it was Iran's disconnection from SWIFT that could contribute to Tehran's joining the so-called "nuclear deal". Despite the fact that formally SWIFT is a "Belgian cooperative" and does not directly comply with American law, Washington was able to find arguments, and Brussels did not cut off separate interbank messages from Iranian banks, but the whole country.
With this in mind, some countries have begun developing their SWIFT counterparts. The People's Republic of China has created its own national system of international payments - China International Payment System (CIPS). The system introduced by Beijing will reduce the cost of transactions in RMB and protect these transfers from US intelligence services that have access to the "Belgian cooperative". BRICS countries plan to create their own analogue of SWIFT.
In recent years, work has been actively conducted in Russia on the Service for the Transmission of Financial Messages (SPFS), which should become the understudy of the Brussels system. In addition to credit institutions, the Russian Central Bank allowed access to the system of large companies. Market experts evaluate the advantage of the Service speed due to exclusion from the bank chain:
Granting access to SPFS to large companies will give more security when making transfers than in the case of using the classical scheme of transfers through a bank
The attention of users of the Russian analogue of SWIFT will also attract obvious economic benefits. Connection to it is free, for comparison, the "Belgian cooperative" will have to shell out several tens of thousands of dollars. There is no monthly service fee in the Russian Financial Message Service. The Russian tariffs for transfers within the system also differ in a favorable direction compared to SWIFT.
It is not surprising that the state-owned corporation Russian Technologies and the Central Bank of Russia switched to interaction within the domestic system. The representative of Rostec comments on this decision:
This initiative allows us to reduce dependence on foreign systems and makes it possible to exchange information with our enterprises in a secure format without using the capacities of foreign providers
Nevertheless, while the Russian SPFS is inferior to SWIFT in terms of functionality and user base, much more work is still to be done to develop it. Some experts believe that the Russian system may find application within the BRICS framework.