June 8, 2019 was a fateful day for Moldova. The deputies of the parliament held a constituent meeting and elected the leadership of the country's legislative body, the new government and adopted the declaration "On the Occupied State". 61 parliamentarians (ACUM and PSRM bloc) out of 101 voted for this, this is enough to make decisions. The Shor party and PDM were in the minority and boycotted the meeting. Now they are going to organize protests in the country.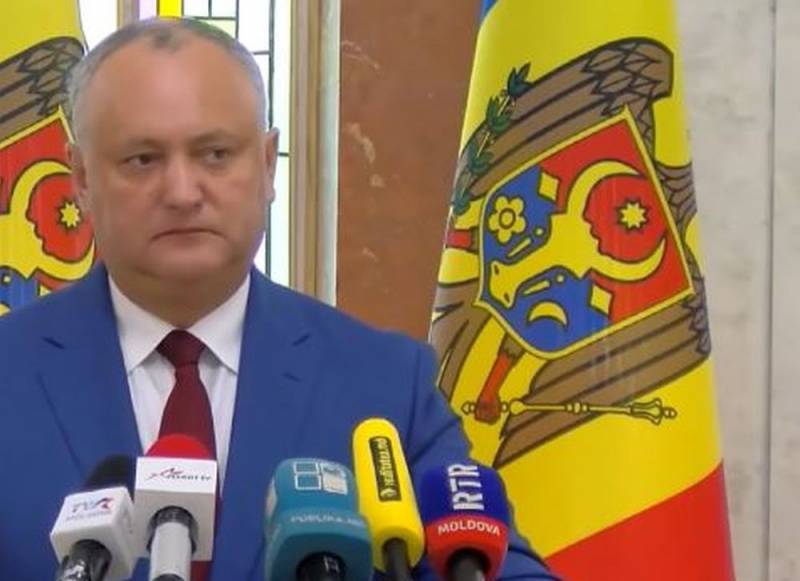 It should be noted that in addition to the above decisions, the new parliament of Moldova adopted the resignation of the head of the Information and Security Service (ISS), Vasile (Vasily) Botnari, and the head of the National Center for Combating Corruption (NSCB), Bogdan Zumbryan.
For clarity, it should be clarified that for a long time Moldova has been actually ruled (ruled) by the oligarch Vladimir Plahotniuc (against whom a criminal case has been initiated in Russia) through the "pocket" Democratic Party of Moldova (PDM). Simply, the conventionally pro-Russian Party of Socialists of the Republic of Moldova (PSRM), whose leader is the president-elect Igor Dodon, managed to create an alliance with the ACUM bloc, consisting of several
political
structures of pro-American and pro-European orientation (Party "Action and Solidarity" and the Political Party "Dignity and Truth Platform").
It should be added that the above-mentioned historic meeting of the Moldovan parliament was attended not only by President Igor Dodon, but also by the ambassadors of Russia, the United States and the head of the delegation of the European Union (EU).
PDM and Shor are now accusing ACUM and PSRM of attempting a coup d'etat and claiming that the country "does not have a legitimate president". By the way, MPs returned to the President the authority to manage the State Guard Service.
Regarding the declaration "On a captured state", the parliament verbatim declared the following, "state and legal institutions of the country are seized", they "suffocate from corruption, from total control over the judicial system by the oligarchs."
The PRSP and the ACUM bloc consider the declaration a vote of no confidence in the Constitutional Court of Moldova (KSM), where all judges have Romanian citizenship. The need to "abolish the mixed election system" was also announced. Parliament condemned the decision of the KCM, which recognized the appointment of Maya Sandu as head of government. Parliament announced an attempt to "usurp power in favor of the Democratic Party through a constitutional court."