On May 28, 2019, the Podolsky District Court of Kiev, at the request of the Main Directorate of the National Police in Kiev, arrested and banned the operation of five Russian-owned An-124-100 Ruslan civil transport aircraft. This was announced on June 7, 2019 by the Ukrainian media in the law firm Ilyashev & Partners, which represents the interests of the Ukrainian state-owned enterprise (GP) Antonov.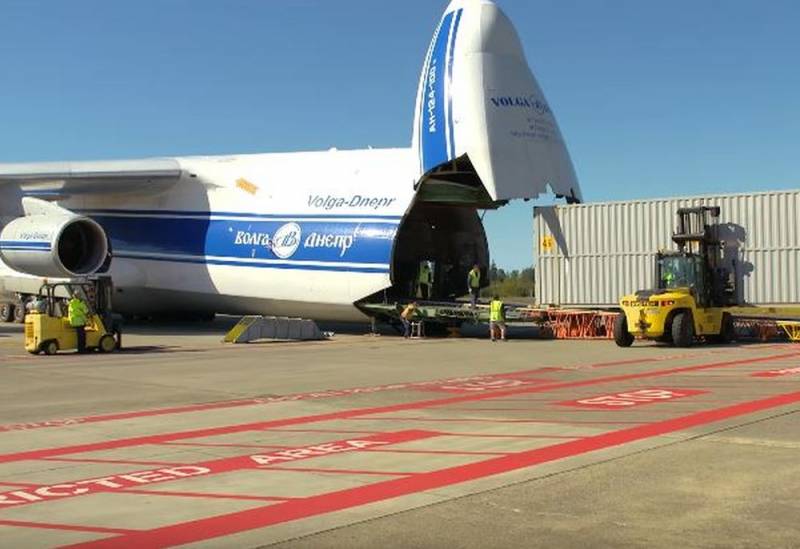 It should be noted that in addition to the aircraft building divisions, Antonov includes the cargo airline Antonov Airlines. And it is this company that brings more than 90% of the total revenue of SE Antonov. So now we can proceed to the very decision adopted by the court in Kiev.
So, the court arrested five boards with registration numbers: RA-82068 (serial number 0703), RA-82078 (serial number 0710), RA-82045 (serial number 0609), RA-82046 (serial number 0610), RA-82077 (serial number 0709). All of them belong to Volga-Dnepr Airlines (Russia) and Volga Dnepr Airlines (Ireland), which have international fame, reputation and authority. In fact, this is one company that has shared responsibilities for a convenient business.
It is reported that the court ruling in Kiev is connected with criminal proceedings opened under Article 281 of the Criminal Code of Ukraine ("Violation of the rules of air flights that created a danger to people's lives or other grave consequences"). It is clarified that the court banned third parties (airports and aviation authorities) from taking actions related to the landing, take-off, receiving and sending of these aircraft.
The Antonov State Enterprise believes that the admission of these aircraft to flights is in violation of the provisions of the Convention on International Civil Aviation and the ICAO Guidelines for Airworthiness. Moreover, the seizure of property is allegedly necessary to ensure the safety of material evidence and compensation for harm caused as a result of the crime.
It should be added that the Ukrainian cargo airline Antonov Airlines is based at the Gostomel airport near Kiev. As of January 5, 2017, the airline's fleet consisted of twenty aircraft: 1 An-12 (reg. No. UR-11315), 1 An-22 Antey (reg. No. UR-09307), 1 An-26 (reg. No. UR-13395), 1 An-28 (reg. No. UR-NTE), 1 An-70 (reg. No. UR-EXA), 1 An-74 (reg. No. UR-74010), 1 An-178 ( reg. No. UR-EXP), 1 An-158 (reg. No. UR-NTN), 1 An-140 (reg. No. UR-NTP), 1 An-225 "Mriya" (reg. No. UR-82060), 3 An-148 (reg. No. UR-NTA, UR-NTB, UR-NTC) and 7 An-124-100 Ruslan (reg. No. UR-82007, UR-82008, UR-82009, UR-82027, UR-82029, UR-82072, UR-82073).
I wonder how the Ukrainian side will react to the arrest of this air fleet or to the ban on these aircraft from appearing in the airspace of Russia? Fly around half the continent is very expensive.