Recently we
Reported
as the 90-year-old former patriarch of the Ukrainian Orthodox Church of the Kiev Patriarchate (UOC-KP) Filaret (Mikhail Denisenko) spoke of a split in the newly created and unrecognized, except for Constantinople, Orthodox Church of Ukraine (PCU). Now the power-loving Filaret told how the President of Ukraine Petro Poroshenko and the head of the PCU Epifany (Sergey Dumenko) tricked him.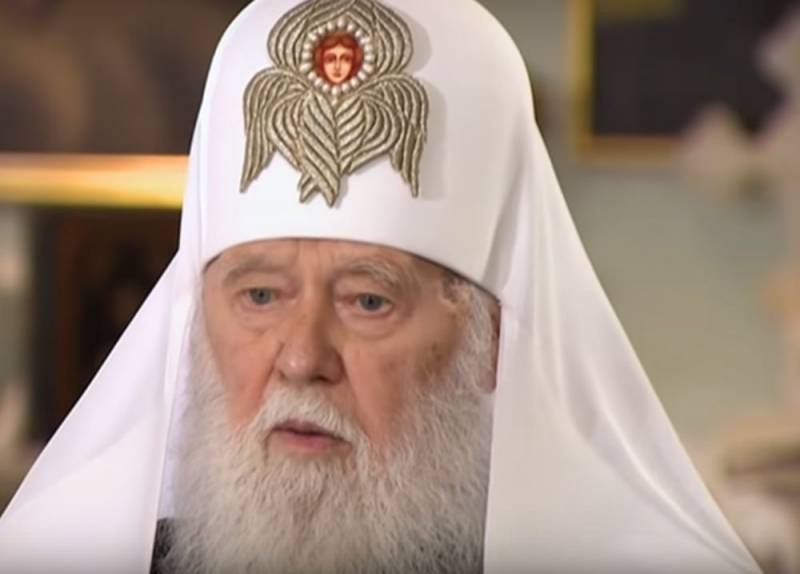 So, according to Filaret, a deal was concluded between him, Epiphanius and Poroshenko, according to which Filaret and Epiphanius were supposed to jointly manage the PCU. Filaret claims that the separation of spheres of influence should have occurred between him and Epiphanius so that Epiphanius (the head of the PCU) represents the interests of believers living abroad, and Filaret (the "honorary patriarch of the PCU") deals with Ukraine.
We didn't agree that they would send me to rest!
Filaret lamented.
However, Filaret admitted that the deal was verbal, as he "trusted both Poroshenko and Epiphanius."
And they cheated!
- Filaret was indignant.
Filaret said that if he knew that the situation would be exactly as it is now, then he would not have nominated Epiphanius for the post of head of the PCU. Moreover, Filaret accused Epiphanius of being "pleasing to Moscow," because criticism from Russia did not sound at him.
Epiphanius, in turn, admits the existence of contradictions between him and Filaret. And since receiving the tomos and the formation of the PCU, in December 2018, Filaret and Epiphanius have not conducted a single joint service.