March 2, 2019 the American company SpaceX for the first time
sent
into space, in automatic mode (without crew), its partially reusable seven-seater spaceship Crew Dragon, which is a competitor to Russian ships for the delivery of cargo and astronauts / astronauts to the ISS. In a fit of "patriotism", in order to throw off the Russian "yoke", the Americans were ready almost immediately to begin manned flights with crews on new ships.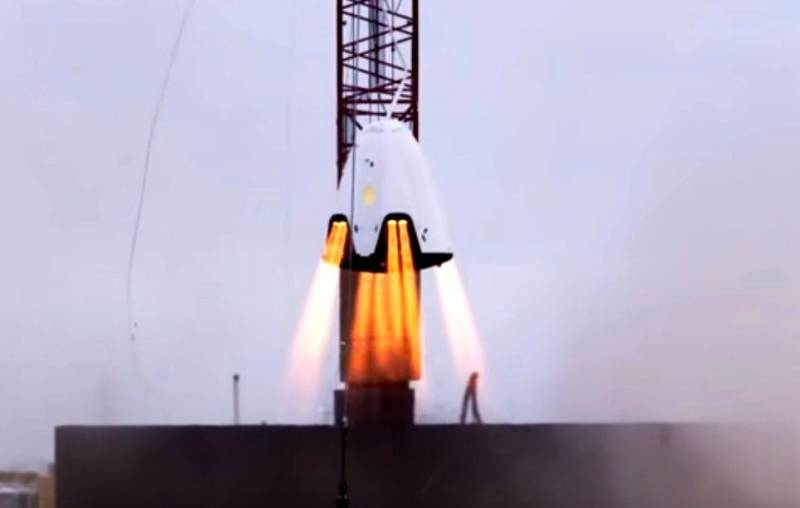 But common sense triumphed - SpaceX decided not to rush, but to conduct a series of tests and postponed the first manned flight. After that, the astronauts / astronauts, who required a workable emergency rescue system, breathed a sigh of relief, because Crew Dragon is still really "raw".
And so, on April 20, 2019, an emergency happened at Cape Canaveral (USA). The ship Crew Dragon, which had previously flown to the ISS, exploded during the fire tests of the engines. After that, SpaceX remained silent for two weeks. Now she has officially confirmed the death of the manned ship Crew Dragon. This was reported by the American broadcaster CNN.
Currently, the investigation of the incident is ongoing. However, Hans Koenigsmann, vice president of the company, has already stated that the disaster occurred just before the launch of SuperDraco engines, which are used in the emergency rescue system. And this is very unpleasant.
The thing is that along the perimeter of Crew Dragon (capsules with crew) eight such engines are installed at once. They are provided for by the design of the ship and are used for emergency evacuation of the crew in the event of a malfunction of the launch vehicle (LV). For example, a similar system with standard operation can save the lives of crew members in the event of a rocket explosion at launch. Engines are able to lift the capsule with the crew 500 meters in five seconds (removing people from the epicenter of the explosion). After that, the capsule with the crew will safely land on parachutes. However, during the abnormal operation of the engines, which should save people, they themselves become a hotbed of mortal danger.
SpaceX planned to demonstrate the emergency rescue system in June 2019. And already in July 2019, the first manned flight of the Crew Dragon to the ISS was planned. Now, according to statements from NASA, this schedule will definitely be revised. Although the mentioned Koenigsmann, he still hopes that the first manned flight of the Crew Dragon will take place in 2019 and SpaceX has already begun construction of the next Crew Dragon.
By the way, the Americans made their last independent manned flight in July 2011. After that, they flew to the ISS only on the Soviet-Russian one-time three-seater spacecraft Soyuz TMA, Soyuz TMA-M and Soyuz MS.