Recently, around the United Aircraft Corporation (UAC) and the joint Russian-Chinese development of aviation
equipment
"Wanders" a lot of various rumors. In this connection, the UAC press service issued a statement regarding the CR929 airliner (wide-body passenger aircraft), created jointly with Chinese partners.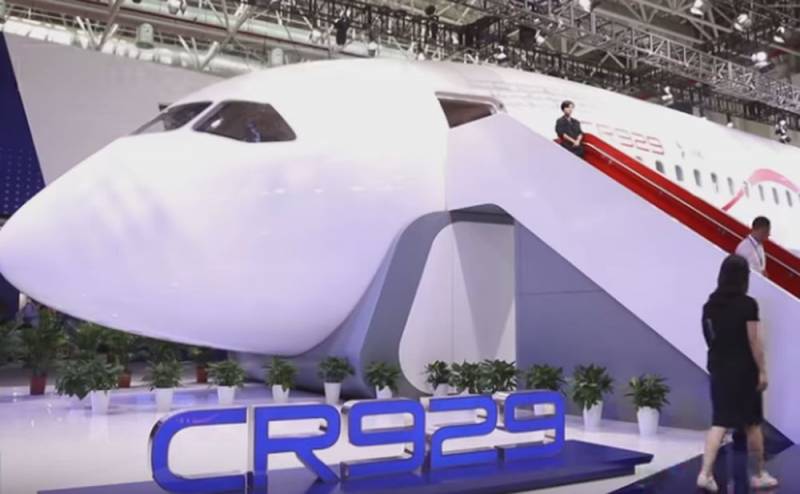 China did not offer Russia to split sales under the CR929 program. KLA and SOMAS do not plan to conduct negotiations on this issue. Aircraft sales are one of the main functions of the joint venture CRAIC (China-Russia Commercial Aircraft International Corporation) created by the parent company UAC and COMAS.
- said in a statement to the UAC.
Moreover, the UAC specified that they also did not consider the possibility of abandoning a parity partnership and sharing costs for the development program of the aforementioned aircraft. The UAC emphasized that equality and consideration of mutual interests are provided for by the relevant intergovernmental agreement signed in 2016. So now, with just a few rumors spread by ill-wishers, it has become less.
It should be noted that the Engineering Center, which will be created as a 929% subsidiary of the aforementioned CRAIC, will become the main designer of CR100. Now, UAC and COMAS are working with certification authorities in Russia and China to determine the best strategy in terms of the commercial effectiveness of the project.
Previously we
Reported
that the developed Russian-Chinese airliner is already waiting on the Asian market. Therefore, there is no doubt that the CR 929 will be able to "move" and Boeing, and Airbus. In this connection, there is practically no doubt who and for what purposes creates a pile of rumors around a joint Russian-Chinese project.