We recently reported how in France
burned
the famous catholic cathedral Notre Dame de Paris (Notre Dame) and as Charlie Hebdo magazine
placed
on the cover of his new issue is a burning cathedral, which is located on the grinning president of France, Emmanuel Macron. The cathedral was erected for more than 180 years and was completed in 1345, now it is promised to be restored, but it is not known how long it will take.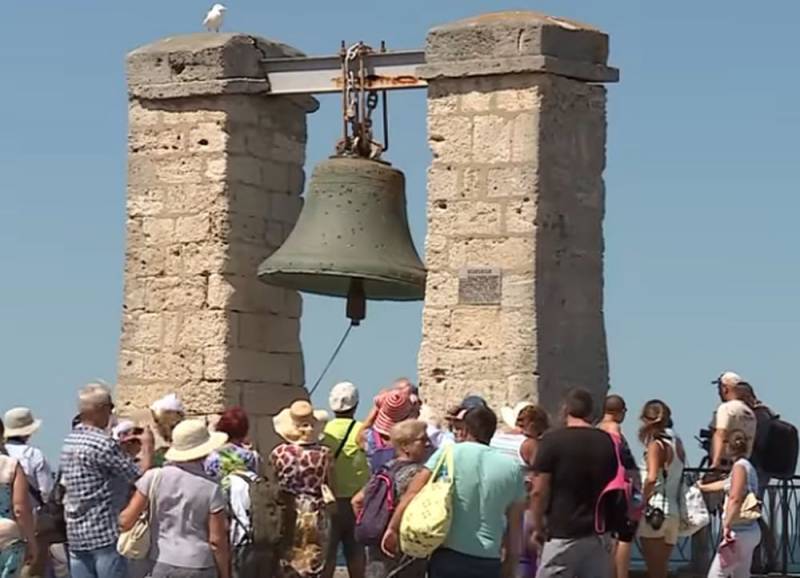 It should be noted that for more than a hundred years in the state museum-reserve "Tauric Chersonesos" the Misty Bell has been stored, which has a difficult fate. Its weight is 2,4 tons; it was cast from captured Turkish cannons in Taganrog in 1778.
During the Crimean War (1853-1856), the Misty Bell was taken to Paris, where it was located on one of the towers of Notre Dame de Paris. In 1913, on the 100th anniversary of the imperial house of the Romanovs, as a sign of allied relations between Russia and France, he was returned to Sevastopol. In the 1930s, it was installed on the seashore in Chersonesos. For a long time he served the passing ships as a sound beacon, warning during the fog about dangerous shallow water.
The Paris tragedy once again reminds us of how sensitive it is to treat those priceless and very fragile treasures that we inherited from previous eras ... In the territory of Chersonesos there is the famous Misty Bell, in a long and difficult fate which has a page connected with Notre Dame de Paris
- reported from the museum-reserve.
It should be clarified that the 240-year-old bell is now a local attraction. For the preservation of the bell, its "language" is specially fixed, for obvious reasons. But tourists still love him.
It should be added that Russian President Vladimir Putin expressed sympathy for French President Emmanuel Macron and the entire French people in connection with the tragic consequences of the fire. He proposed sending the best specialists from Russia to France to assist in the restoration of Notre Dame de Paris.