On March 19, 2019, President of Kazakhstan Nursultan Nazarbayev resigned. The next day, his 55-year-old eldest daughter, Dariga Nazarbayeva, was elected chairman of the Senate (upper house of parliament). Prior to that, she headed the Senate Committee on Foreign Affairs, Defense and Security (since September 2016 she has been a senator)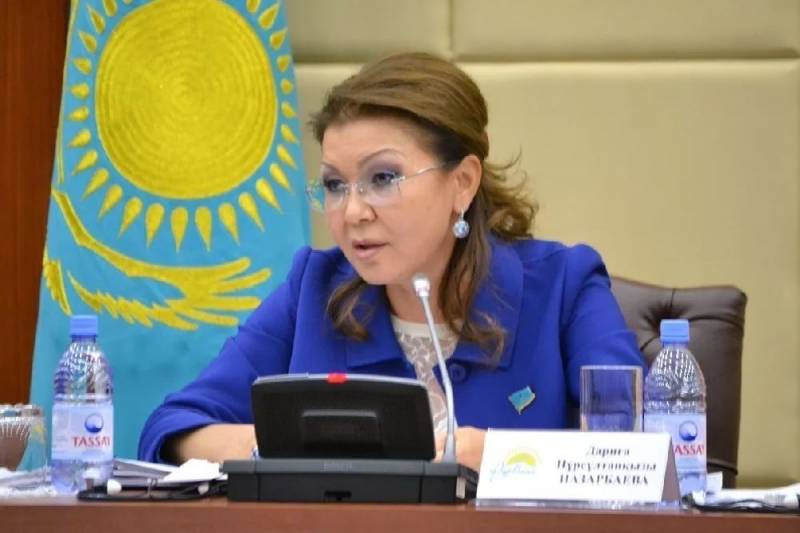 It must be recalled that all the 44 senators in the hall voted unanimously for this decision. After all, the chairman's place was vacant after Kassym-Zhomart Tokaev took over as president of Kazakhstan. He will remain in this position for about a year, until the next election, which should take place (tentatively) in April 2020. What constitutes the legislative authority of Kazakhstan, we detail
Reported
earlier.
It should be noted that as soon as Dariga Nazarbayeva was elected chairman of the Senate, she immediately remembered her unsuccessful statement, after which she was at the epicenter of the scandal. In March 2014, Darina Nazarbayeva said that children with disabilities in specialized orphanages are "freaks".
According to her, you need to take teenagers to these boarding schools on excursions so that they can see with their own eyes the result of an ill-conceived, premature sexual life. Then this statement caused a storm of indignation, but after a while they forgot about it. And now, Dariga Nazarbayeva recalled this statement.
So that they see what the result of ill-conceived and premature sexual activity is. And these children, freaks, show disabled people, let them watch. It works stronger than hours of talk and lecture.
- said Dariga Nazarbayeva regarding the education of adolescents.
I must add that recently we
Reported
as President of Russia Vladimir Putin signed Decree No. 95 on increasing from July 1, 2019 the monthly allowance for the care of children with disabilities of group I from 5,5 thousand rubles. up to 10 thousand rubles