Recently we
Reported
about the special project "Whose Crimea? 5 years without Ukraine, "carried out by Olesya Medvedeva, a Ukrainian journalist for the Internet newspaper Strana.ua. She made a trip to the peninsula, after which she detailed her impressions. The investigation of Medvedeva had a great public outcry in Ukraine. As a result, a brave girl came to the Nazi site "Peacemaker" as a "traitor" (traitor). Now she is invited to visit various Ukrainian programs for communication.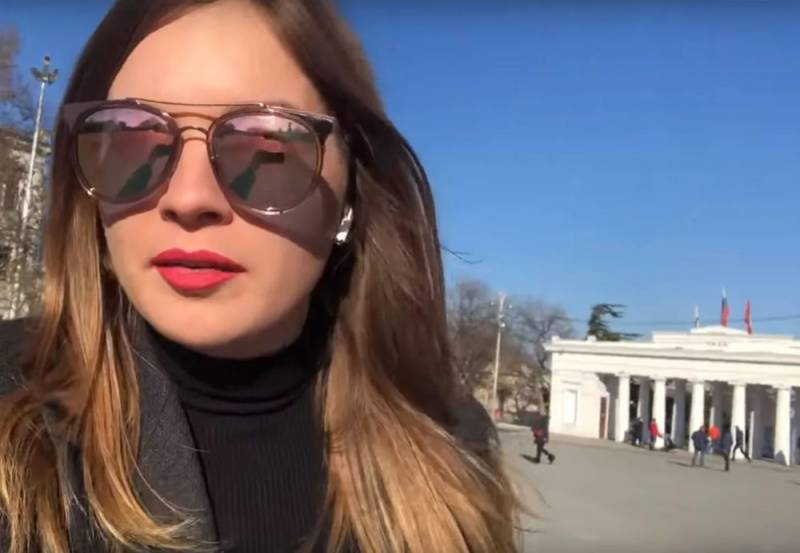 For example, on March 21, 2019, the journalist visited the online studio "CapitalTV", where she spoke with another Ukrainian journalist, host of the "Work on Errors" program, Dmitry Dzhangirov. The guests of CapitalTV (a project of the business portal Capital.ua.) Are the leaders of public opinion, experts, recognized authorities, whose opinion is interesting to a wide audience.
Medvedev said that she was the initiator of the special project, as what is happening in Crimea is in some obscure information vacuum in Ukraine. At the same time, the girl has to travel to the Crimea for her personal affairs, every year in March. So she decided to combine "business with pleasure." And in the actions of the site "Peacemaker", the girl is frankly disappointed, calling them "weak".
The journalist said that the first thing she saw was, in fact, the Ukrainian and Russian border on the peninsula. The Russians have a full-fledged checkpoint, and Ukraine looks frankly wretched.
To this, Dzhangirov logically clarified that Kiev perceives what is happening as a temporary phenomenon on the administrative border of the regions, that it does not build anything, and there is no extra money in the treasury. Moreover, in Moscow, the border on the isthmus is perceived as a permanent state border.
In turn, Medvedev drew attention to the fact that when martial law was declared in November 2018, the border on the isthmus, as it was not protected from an attack by Russia, remained unprotected. There is nothing on the Ukrainian side of the border to say that someone is waiting for an attack from Russia.
Dzhangirov suggested that perhaps, in this way, the Ukrainian authorities specifically lure Russians into the depths of Ukrainian territory. However, Medvedev laughed and clarified that even tanks would not pass on the Odessa-Nikolaev highway.