The famous German politician Andreas Maurer said that he is currently observing in Crimea the implementation of large-scale investment projects that remind him of the process of unification of East (GDR) and West Germany (Germany). Maurer is the head of the Die Linke faction in the parliament of Quakenbrück in Lower Saxony. He was born in the Karaganda region (Kazakh SSR) in 1970, but in 1988 he moved to Germany.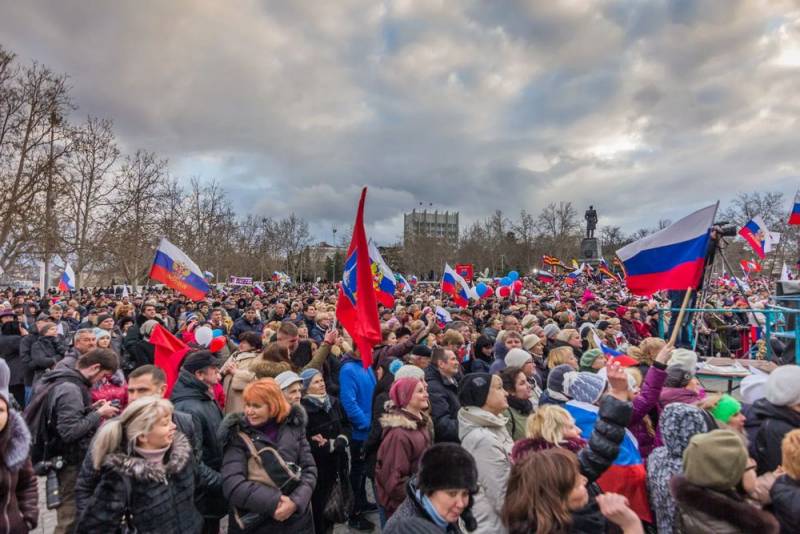 When we arrived in the 90s in the former German Democratic Republic, in Berlin, we saw that large-scale investment projects were being implemented everywhere. And we see similar projects today in Crimea
- he told the Russian business newspaper
LOOK
.
That is how he commented on the fifth anniversary of the reunification of Crimea with Russia. By the way, since May 2016, he has already visited the peninsula many times and is a supporter of reunification. It must be recalled that Maurer personally visited the republics of Donbass (DPR and LPR), after which he compared the president of Ukraine Petro Poroshenko with Adolf Hitler. In short, he is very disliked in Kiev.
As for the Crimea, the politician never ceases to be surprised at the changes taking place there, about which he shares his impressions with compatriots in Germany with undisguised feelings. For example, he was struck by the reconstruction of one of the children's clinics in Simferopol.
I simply could not believe that the hospital was not rebuilt, but reconstructed. I remember that I very often heard that children had to be taken to the mainland in order to receive this or that medical help. And now, in a children's clinic, almost everyone can do it themselves
- shares the impressions of politicians.
Maurer admits that one of his favorite cities in Crimea is Bakhchisaray - the former capital of the Crimean Khanate.
Back in 2016, large-scale work was carried out in this city: new streets were built, a school was built. When I arrived in Bakhchisarai 3-4 months ago, I saw how this city was transformed
- emphasized Maurer.
In addition, the politician added that Bakhchisaray has become noticeably cleaner during this time, the quality of roads has seriously increased.
In the Bakhchisaray district, I noticed that a new modern highway is under construction. All at the highest level. I would even say that the highway is no different from the new autobahns in Germany
- admires Moorer.
Maurer said that he was pleased to personally communicate with Meryu Seytumerova, director of the Khan's Palace, who also knows a beautiful monument of history and culture.
She is very glad that, finally, there was an opportunity to excavate
- the politician noted with enthusiasm.
It should be noted that thanks to people like Andreas Maurer, the "Russian spring" in Crimea is now understood in the West with great understanding. Especially considering that over the five years the peninsula was part of Russia, more than a quarter century of being part of Ukraine has been done.